Lollarecap
Despite stolen phones, Jones students manage to enjoy Lollapalooza
On Thursday, July 29, over 100,000 people packed into Grant Park for Day One of Lollapalooza. After being canceled due to the COVID-19 pandemic in 2020, Lollapalooza returned in stylish fashion for 2021 with a lineup headlining Miley Cyrus, Post Malone, The Foo Fighters, and more. 
Lollapalooza's performances always draw a large crowd of high school students. Conveniently located in the backyard of Jones College Prep, Jones students were abundant at this year's global music festival.
"I did see surprisingly a lot of Jones kids," said Hollis Severins '23. "That's hard to do because of how big Lolla is!"
With many students having gone a long period of time without seeing each other, Lollapalooza provided a great opportunity to reconnect with "old" high school friends.
"It was so much fun seeing people I hadn't seen in what seemed like forever!" said Severins. "I loved Lolla this year, it was a lot of fun and the music was surprisingly good for the lineup that they had."
Many other people also attributed their good times to the strong performances from artists.
"I did enjoy [Lollapalooza]," said Alex Warren '22. "I thought a couple of performances were very good and there was a lot of energy in the crowd."
Warren also enjoyed the presence of fellow Jones students in the crowd. However, some students said it was their knowledge of the downtown area that made Lolla especially exciting.
"Being a Jones student 100 percent affected my experience at Lolla," said Severins. "I took the train to and from Lolla a couple of the nights. So many people were getting lost but I knew my way around!"
Chloe Deforest '22, who also took the train to Lollapalooza, had a similar experience on the train. She believed her time at Jones well prepared her for the concert, allowing her to show others around.
"I knew the train stops and where to get off, so yes, going to Jones definitely helped," said Deforest. "I went to Lollapalooza with people who don't go to Jones, so it was definitely interesting leading them around."
Deforest said she did not expect her stamina to hold up for the entire weekend.
"I actually thought it would be really tiring going all four days, but I really enjoyed it," said Deforest. "I had a great time."
Although many had an excellent time during the four-day festival, several people suffered the loss of a phone at the event. Joey Scalise '22 had to deal with the consequences of having a friend's phone stolen out of his own pocket.
"We were at Playboi Carti and my friend didn't have zipped-up or buttoned pockets, so he decided to hand [his phone] to me," said Scalise. "I assume someone saw me put it in the buttoned pants, because about 3 minutes into jumping up and down the phone was gone."
However, even with the guilt of having his friend's phone stolen from him, Scalise said he still had a great time at the festival and his friend quickly forgave him.
Similar to Scalise's story, Warren also had his phone stolen from his own pockets; however, this time it was his own.
"We were at the EDM [Electronic Dance Music] stage, and I was not paying attention to my phone for a little bit," said Warren. "Next thing you know, I reached towards my pocket and noticed that [my phone] wasn't there."
Warren claims he was lucky enough to have lost his phone on the last day of Lollapalooza and wasn't too affected by the absence of his personal device. Even with no phone, Warren said he was able to enjoy the rest of his night and have a stellar time at the Young Thug concert.
Altogether, Jones students appeared to have a memorable and fantastic experience at the return of Lollapalooza–with phones or without.
Leave a Comment
About the Contributor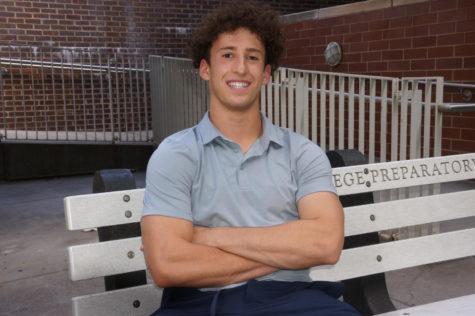 Leo Necheles '22, Co-Editor-in-Chief
Leo is the Co-Editor-in-Chief of the Blueprint. This is his 3rd year writing for the Blueprint and he looks forward to continuing journalism in college.