In-person Fresh/Soph Connections a success
Mentors reflect on their experiences participating in this year's connections
Over the summer, freshman and sophomores both participated in different events in preparation for the upcoming school year. The first in-person Freshman Connection in over a year and first ever Sophomore Connection aimed at giving incoming students an opportunity to make friends and become more familiar with the school. 
The week-long connections helped freshmen and sophomores alike gain confidence in going back to school after a largely isolated year.
"It was a really great experience because while the freshman and sophomores were learning and connecting, I was also connecting with people and learning more about Jones and the area," said Ava Tallarida '23, Freshman and Sophomore Connection mentor.
The week-long Freshman Connection resembled how it was before COVID, with students spending half the day at Jones doing bonding activities and the other half taking field trips around the South Loop.
"We did many off-site activities like going to Roosevelt Park or visiting YOUmedia in Harold Washington Library, because of COVID-19 it was really nice to be outside," said Stella Moster '23, Freshman Connection mentor. 
Since CPS has been virtual due to the pandemic, Eagle Leaders agree that freshmen were especially eager to make friends during Freshman Connection.
"I think freshmen, such as my sister who is an incoming freshman at Jones, are beyond excited to meet new people because they haven't been to school in so long and missed out on the end of middle school," Tallarida said. "I think the connections they are making are really powerful after COVID because you're finally figuring out who you are and are able to find people who are similar to connect with."
The first ever week-long Sophomore Connection created an opportunity for sophomores to connect with fellow peers and learn more about the Jones building after a mostly isolated school year. The connection mirrored Freshman Connection with days being split up between bonding and field trips, but instead of mentors volunteering the whole week, Eagle Leaders were only present for one day to give tours of the school while teachers handled the rest of the week. 
"Sophomores hadn't had the chance to be at Jones in the same way most sophomores have been in the past, so I think it's really important that they had a connection because it will make them feel like they don't need as much help as the first years," Tallarida said.
Mentors, along with helping some of their new peers, also got a chance to connect and meet other mentors during the week.
"I got super close with many other mentors," Moster said. "I had never met some of the other mentors but during freshman connection I was able to develop a really cool friendship with them."
Eagle Leaders looked back on their own personal Freshman Connection experiences to help them as mentors to this year's freshman and sophomores.
"One of the things I valued most in my Eagle Leader was that I always felt respected as a person and was not talked down to because I was a freshman," Moster said, "It was super important to me that my flight felt like they were my equals and were respected in the same way I felt by my mentor." 
Mentors agree that the summer's connections were successful in helping freshman and sophomores make connections and feel more confident about the new school year. 
"I would definitely say it was successful, it was fascinating to see the mentor-mentee relationship evolve as well as the mentees' relationships with each other, I have a feeling that a lot of these people will be very happy to see a familiar face when they go to school," Tallarida said. 
Leave a Comment
About the Writer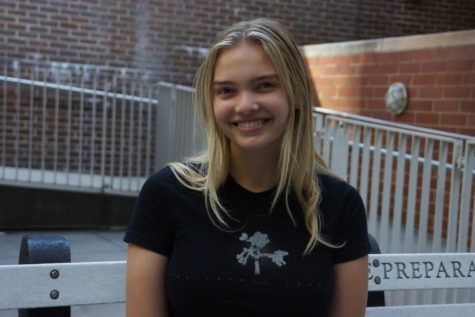 Norah Hendrickson '23, Editor-in-Chief
This is Norah's third year on the Blueprint and has been enjoying her new role as Co-editor in chief! She loves leading the Broacast/Podcast Section...