SGA excitedly welcomes students back to school amidst COVID concerns
SGA hopeful about planned events with the new school year
With the return of a full in-person school year, SGA has been working hard to plan events within the boundaries of the ever-changing COVID situation.
Though big events like homecoming and the club fair will look different than they have in the past, council members have tried their best to make the most out of the circumstances and plan fun events for the school.
"Unfortunately none of the events that we are working on are set in stone because it's all dependent on city regulations," said SGA President Zoe Weinstein '22. 
SGA has been meeting consistently over the summer to plan multiple events for the upcoming school year. 
"Respective councils have been meeting monthly throughout the summer and we've been doing everything through Zoom and talking about each of our specific events," said Crystal Huynh '22, Senior Council President. 
Though no events can be guaranteed, there are tentative plans for back to school events set in place, such as a club fair and homecoming.
"Right now we're hopefully looking at a student fair with the clubs around the first couple weeks of school and homecoming during the last weekend in October, though I can't promise it at all," Weinstein said. 
Due to COVID procedures, these events will look different than they have in the past, likely including masks, social distancing, and other precautions. 
"If we were to have these events there would be things like a capacity limit so not as many people would be able to attend like in the past and a mask regulation of course," said Huynh.
The new Delta variant, now the dominant variant in the U.S, has also affected SGA's planning as they have to be mindful of possible changes put in place by CPS.
"With the new Delta variant of COVID it's hard to say if CPS and Illinois as a whole is going to affect our ability to have these events," Huynh said. "It's going to be either not being able to have them at all versus trying to find an alternative that still has the gist of the event."
Because of the lack of events last year, SGA has been working hard to give students a memorable and positive return to school. 
"We are trying to put in more effort to make sure that everyone has a really exciting back to school, for example, one thing we are doing is decorating the lobby," Weinstein said. "Hopefully we can welcome everyone back to school in a little more enjoyable way since we've all been looking forward to getting back into the building."
SGA has also been looking ahead and collecting ideas for graduation and other senior events. 
"A lot of people have told me they want to have graduation at Soldier Field like the class of '21 did and for our prom, the class of '22, prom will probably be at the Palmer House Hotel," Huynh said.
SGA asks that the Jones community be open minded and understanding of the COVID situation and show support by participating in events.
"We want to ask everyone to please be flexible and understand that we are trying to do our best for everyone, please come to the events, show school spirit, and enjoy everything we have planned for you," Weinstein said. 
Leave a Comment
About the Writer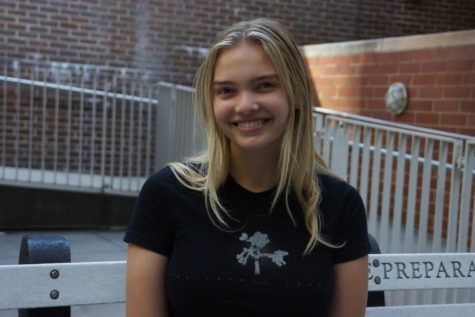 Norah Hendrickson '23, Editor-in-Chief
This is Norah's third year on the Blueprint and has been enjoying her new role as Co-editor in chief! She loves leading the Broacast/Podcast Section...