New year, new faces
Many departments at Jones welcome new teachers
After a difficult year of remote learning, the Jones Eagles are expanding the nest by welcoming some fresh new faces on August 30th to kick off the return to full time in-person learning.
The Social Science department has said goodbye to teachers Nora Bingham and Michael Borge, who both made the decision to leave the Jones community in order to spend more time with family; taking their place in the department are Jorge Perez and Jeannette Jakupi. In a letter addressed to students and parents, Borge stated,
"Jones has been an anchor for me for the past seven years. This year was difficult for everyone, and I am no different from anyone else in that regard," said Borge. "However, getting to know students through their writing, and through conversation as students returned to school, reminded me of why I do what I do… As we move into the next leg of the journey, and the civic world continues to turn, stay active and remember to start with the humanity of others, particularly those with whom you disagree. It is when we ignore the humanity of others that we can become inhumane." 
Perez, who is new to teaching, recently graduated from the University of Illinois at Chicago, and is looking forward to teaching AP Government this year.
"[I'm most excited about] the students, I know that they are highly motivated," said Perez "They are super ambitious, and that'll be a challenge, but I'm up for it."
Additionally, Tricia Rodriguez and Marc Powers will join the English department this fall; the Science department brings in Nicole Riegert; the World Language department welcomes Changjun Zhao; lastly, the Visual Arts department is joined by Michaela Kincaid. 
Many of these teachers, having just entered the Jones community after a year of remote-learning, are nervous about tackling the task of in-person teaching.
"There are a lot of challenges I'll be facing, particularly with students coming back from COVID-19 and remote learning," said Jakupi, who has previous experience working at Jones. "My own challenge will be teaching two AP classes I've never taught before, putting me in a difficult position while still being a new teacher…Also, dealing with difficulties helping students get back into their routine and feeling comfortable back in school."
Jakupi has worked as a student-teacher under Borge, as well as a long-term substitute teacher for Daniel Kovacs and Bingham, and has learned much from her experiences that she believes will be beneficial to students. 
"I've learned a lot, particularly from Mr. Borge when I was student teaching," said Jakupi. "He was very heavy on grit, doing work, and putting in a lot of effort. I learned a lot in terms of giving it my all, spending a lot of time lesson planning, and helping my students in any way possible. I learned to be flexible, being in the position I was… everyone at Jones is super welcoming, and everything worked out for the best."
Additionally, administrative faculty welcomes Michelle Monaco as a Case Manager, and Amanda Timmons and Lyneka Crawford as Diverse Learners Cluster Program Teachers
Leave a Comment
About the Contributor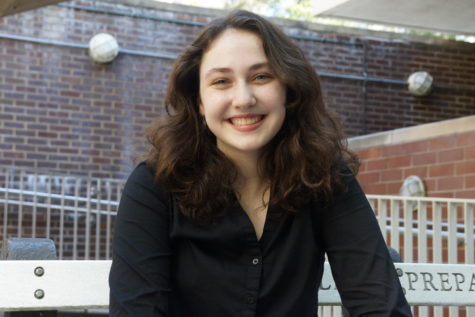 Fiona Kogan '22, Co-Editor in Chief
Fiona is a senior at Jones and this year's co-Editor-in-Chief of the Blueprint. Additionally, Fiona is involved with NHS, NEHS, Girl Up, and Young Democrats...