The State of the Blueprint
These last few years have been nothing short of busy for the Blueprint. From a global pandemic to multiple teachers' strikes to polarized local school politics, there has been an abundance of news for us student journalists to keep occupied with. Within this time frame, the Blueprint is beyond grateful for the growth we have sustained- largely in thanks to you, the readers. 
Just this school year alone, our website has eclipsed 10,000 new users and almost 40,000 page views. Those significant numbers represent over 20 percent of the viewers in the Blueprint's tenured eight-year online history. 
On top of the recent exponential growth in our online numbers, the Blueprint has also managed to continue turning out print editions. In addition, during the past two years alone, the Blueprint started distributing schoolwide digital newsletters, produced an official podcast (The Jones Blueprint Podcast- available on Spotify, Apple Music, and other platforms), and started the foundation for a Blueprint broadcast program. 
The Blueprint has certainly been noticed and honored for these achievements. The Blueprint took home the McCormick Foundation High School Media Awards Sweepstake Victory in back-to-back years (2021, 2022), receiving honors as the best high school newspaper in Chicago. 
Additionally, on the individual level, Blueprint student writers took home a countless number of awards during that two-year span.
Of course, there are many people to thank for this ongoing success. For starters, the Jones Administration and Dr. Powers have been beyond supportive in helping the Blueprint succeed. As a news organization, it is essential to have the freedom to deliver the utmost factual and uncensored news as possible in a high school setting. Dr. Powers and his administration have been not only reliable supporters but also sources for the Blueprint, always having their doors open for interviews. 
The Blueprint cannot even begin to thank our advisor, Mr. Maggid, for his unconditional devotion and dedication to the Blueprint. Mr. Maggid has been absolutely spectacular in helping the Blueprint expand and continue our traditions of excellence in just his two years of time with the paper. 
The Blueprint looks forward to many more years of distinction in the Jones community as we continue to provide you with school-wide news, in whatever format that may be. 
Leave a Comment
About the Writer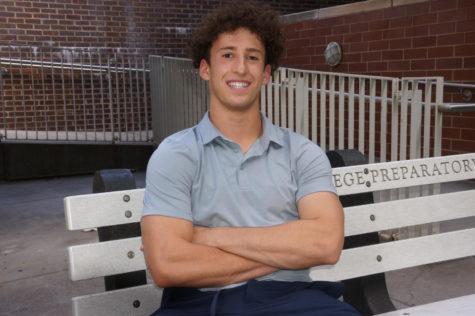 Leo Necheles '22, Co-Editor-in-Chief
Leo is the Co-Editor-in-Chief of the Blueprint. This is his 3rd year writing for the Blueprint and he looks forward to continuing journalism in college.