Bittersweet
All smiles after rough ending on Senior Night
In the last game at the Eagles' Nest, the Jones varsity boys basketball team suffered a tough 50-40 loss to Chicago High School of Agricultural Sciences (CHSAS) on Feb. 17.
Regardless of the outcome, head coach Richard Kavalauskas is proud of all of the players, particularly the seniors.
"They leave a positive legacy of hard work, [they] work on their games outside of practice," Kavalauskas said. "That's what we're trying to create here in terms of culture, being in the gym nonstop. [Our] senior class embodies that."
James Mattar '22 had one of his best nights shooting the ball in which he dropped 15 points, including four threes. 
"James went crazy, I appreciate that," said Devin Boston '22. "He was our leading scorer, and we needed that tonight."
Not only was there a big fan turnout, the Jones band also played as well. According to team captain Romell Franklin '22, having the court rocking is exciting.
"It was amazing. The fan turnout was ridiculous, it was a really fun gym to play in last night," said Franklin. "I'm definitely going to miss hooping in the Eagles' Nest."
Jordan Boston '22 spoke to the atmosphere of playing with an entire school behind the team.
"The energy, it was [incredible]. I love how everybody popped out," said J. Boston. "Everybody celebrated us and honestly, it was beautiful."
On a night where Ethan Samuels '24, the top scorer for the Eagles, was out with a foot injury, the team played through adversity. The seniors are excited to see what Samuels can do in the coming years.
"He's the future of this organization. He's going to carry this [program]," said D. Boston. "30, 40, 50, 60, you name it. He's going to get it all. Hell, he'll [score] 100."
To Chris Sommese '22, one of the best parts of playing for Jones is growing up with all of the team, going from freshmen to seniors.
"It was great to see the guys that I grew up with from being 14 to 17 and 18 now," said Sommese. "Playing basketball together [was the best]. Watch for us in the rec leagues coming up."
Kavalauskas said that this season was a fun ride in many ways, especially when it came to the seniors leading the way for the younger guys.
"What a fun, great group of guys to coach. We walked about it a little bit in the locker room, about how they're paving that path for our underclassmen," Kavalauskas said. "I wish we could've pulled out the win tonight, but they've definitely left our program in a better place."
Mattar was emotional when talking about his last game at Jones, saying it was one of the most enjoyable games was the last. 
"This was definitely one of the most fun games I've [played in]," said Mattar. "This was my last game here. I want to thank all of the fans. It's been a [great] four years. This has been fun."
Franklin also had some emotional final remarks, and being the team captain, he was especially happy for everyone on the team.
"I'm so proud of the guys and I want to thank them for sticking beside me and always having my back," Franklin said. "I love you guys."
With all of the thank you's to the Jones program, J. Boston only had one thing to say about the conclusion of his high school career.
"Mic drop."
Leave a Comment
About the Contributor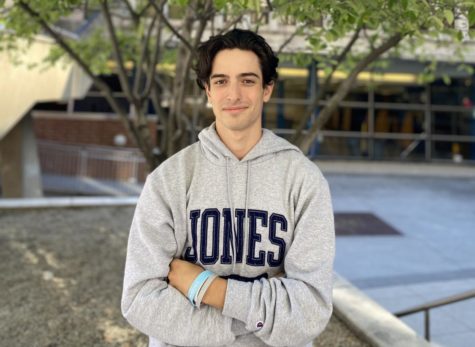 Jason Bernstein '23, Sports Editor
Jason is a senior and is the Sports Editor for The Blueprint this year. This is his second year doing journalism, and he is ready to keep the school updated...