Griseto inducted into Hall of Fame
Jones basketball coach of 21 years awarded with highest honor
Frank Griseto, the former basketball coach, baseball coach, and athletic director of Jones College Prep, has been inducted into the Illinois Basketball Coaches Association Hall of Fame.
For years, Griseto coached basketball in many different Illinois high school basketball leagues, but he spent the majority of his years as a head coach at Jones.
"It is a tremendous honor to be nominated and for the committee to recognize your achievements as a coach," said Griseto. "I was never one to toot my own horn, so to have somebody else recognize the accomplishments that I've given to the basketball community is really outstanding."
As an Illinois high school basketball player himself, Griseto played for St. Rita of Cascia High School, but, after the loss of his father early on in his career, he made the transition to play for the Union League Boys Club basketball team.
"My dad passed when I was a sophomore, and by the time I came back into the fold as a senior, I was behind some of the other guys," said Griseto. "I had an opportunity to play on the Union League Boys Club basketball team, which was like a travel team, and I ended up playing there. [This] was much more beneficial than essentially sitting on the bench [for St. Rita]."
Griseto started off as a college student with a double major in Social Studies and Physical Education.
"I always had an interest in being around athletics and coaching was a natural progression," said Griseto. "So, I got into it and I liked it. I coached two sports, baseball for about 25 years and basketball for about 38 years."
While in high school, Jones' current head basketball coach, Richard Kavalauskas, played against some of the teams Griseto has coached, contributing to Kavalauskas's high regard of Griseto.
"I've always thought his teams played very hard and I know he is well respected [because] he has been doing this a long time," said Kavalauskas. "So, I thought highly of him coming into Jones as a basketball coach."
Although retired from coaching basketball, Griseto is still very involved with the basketball team at Jones. 
"Anytime you can just walk downstairs to his office and get advice from a guy who has been doing this for 30 years, and a guy who has been downstate before, it is an awesome resource to have in the building," said Kavalauskas. "We have brought him up to practices, and as he steps away from his athletic director duties we are going to see him at more practices and games."
Throughout his many years as a coach and teacher, Griseto has built strong relationships inside and outside the game with many players, including current Jones basketball team captain Romell Franklin '22.
"Coach Griseto and I became best friends because he became my physical education teacher sophomore year and my driver's education teacher," said Franklin. "That's really when we became close [because] we started bonding over basketball and every period was all about basketball with Griseto. He has a lot to share and a lot of stories."
Griseto coached and had a lot of success at big programs such as Westinghouse College Prep, St. Ignatius College Prep, and Notre Dame College Prep.
"I came awfully close to winning a state championship when I was coaching at Westinghouse," said Griseto. "We finished third in the state which is a considerable achievement when I was an assistant coach."
It is rare to see a coach of any sport stay around the game for as long as Griseto has, who has committed his life to being around sports. 
"I think a lot of people don't understand anymore that he has been doing this for about 30 years, and not a lot of people do that," said Kavalauskas. "Time away from your family, time away from your wife, your kids, whatever it is, it is a huge commitment."
Throughout the Jones community, the people that Griseto has built relationships with all congratulate him on his stunning accomplishments and thank him for the knowledge he has shared.
"The amount of knowledge I gained from Griseto I don't think I can learn from anywhere else," said Franklin. "Everything he says is firsthand experience which just makes it so much more authentic, and I think that is the major thing about Griseto. It is so easy to sit there and learn just by sitting and listening." 
On Saturday, April 30, Griseto and the rest of the 2022 class of Hall of Fame Inductees will officially be honored at Illinois State University's Redbird Arena.
Leave a Comment
About the Contributor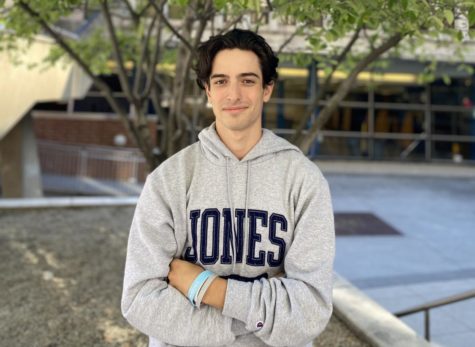 Jason Bernstein '23, Sports Editor
Jason is a senior and is the Sports Editor for The Blueprint this year. This is his second year doing journalism, and he is ready to keep the school updated...