The last hurrah
Seniors come up big in Senior Night win vs. Brooks
The Jones girls varsity basketball team picked up a 43-33 Senior Night win against Brooks in their 2021-22 season finale on Feb. 16.
Taylor Yaklich '22 led the team with 12 points, including two threes. Even though she transferred her junior year, she still feels like everybody else who is leaving the team.
"It was really awesome to get the win tonight, to finish the season on a strong note," said Yaklich. "I played well tonight, so it made it even better to win and end [in] a great [way]."
Chloe DeForest '22 added nine points on a perfect 3/3 shooting from behind the arc. Not normally a big jump shooter, she said it was really exciting to end the season the way they did.
"I typically don't really shoot much in games, so for me it was really exciting," DeForest said. "It got me hyped up and it was a great way for me to end my career."
Bailey Zalewsky '22 also dropped nine points on the night she was dubbed as "The Walking Bucket" by head coach Nicholas Teich. 
"Bailey is our leader, Bailey is our best player. We win games on Bailey's back," said Teich. "She wins us games. She's done that her entire career."
After coming back from an ACL injury last year, Jaclyn Davis '22 was able to show her grit and toughness throughout the season, according to Mia McRoberts '23.
"She's pushed through a lot, she has to go to rehab and physical therapy, which makes a lot of people just quit," said McRoberts. "Jackie showed up to every practice and game ready to go. Even when she was hurt, she would support the team."
Even though the seniors are leaving, the team is still excited about what the future holds. McRoberts believes that Nyla Griffin '25 will have an increased role in the coming years.
"Nyla is a really good playmaker. She is going to be a big help," said McRoberts. "She's great at breaking presses and getting the ball up and running our plays. I'm very excited to play more with Nyla."
The seniors are also looking forward to seeing how this team progresses, specifically the current freshmen and sophomores.
"I'm excited to see the underclassmen develop, especially the ones who I'm really close with now," Yaklich said. "I want to keep tabs on them [as they keep playing] and support them all that I can."
According to DeForest, the bond that the team shares is special, and one that couldn't be created with different people.
"We have a really close-knit team. I'm extremely close with everyone," said DeForest. "I'm really excited to come back next year and see how all of the girls have developed their game."
DeForest made her biggest impact this season on the defensive side of the ball, according to Teich.
"DeForest is the player on our team that does all the dirty work, she's an extremely good rebounder," Teich said. "She's a good on-ball defender and gets a lot of steals, which is what I [expected] all season."
After losing a few games prior to Senior Night, to end the season on a win is all anybody wanted, according to McRoberts. 
"It was good to end on a win this season. I love [the seniors] all so much," McRoberts said. "I wish them all the best wherever they go to college, they're going to do great [things]."
Even though it is a bittersweet goodbye, it has been a fun ride for the team and everyone involved, according to Yaklich.
"This was the high note of my senior season," Yaklich said. "It was just really [incredible] to have that experience with my team."
Leave a Comment
About the Contributor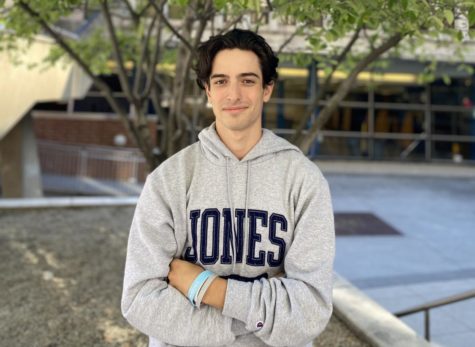 Jason Bernstein '23, Sports Editor
Jason is a senior and is the Sports Editor for The Blueprint this year. This is his second year doing journalism, and he is ready to keep the school updated...