Serving with purpose
Serves lead to victory in Jones' Dig Pink game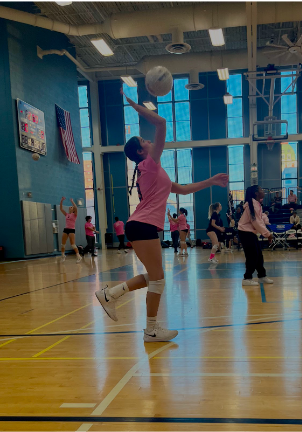 The Jones girls volleyball team triumphed in a 2-0 win over Von Steuben for their annual Dig Pink game on Sep. 29 at the Eagles' Nest. 
Dig Pink is a nation-wide movement that raises money for breast cancer. The lively crowd and significant meaning of the game sparked extraordinary spirit in the players, as they won in just two sets. The final score was 25-13 and 25-20. 
"[Dig Pink] means a lot to me personally just because it's such a great cause," said captain Rory Maxwell '23. 
Maxwell played a vital role in the win through her dominant serves that put substantial distance in the scores between Jones and Von Steuben. Between the pressures of an important game and an energetic crowd, Maxwell acquired different ways of staying grounded during her serves to help her team. 
"I just try to focus on getting the ball over the net and not anything else that's going on," said Maxwell. "If I just focus on that, I'm usually pretty successful back there." 
While the chants and cheers from the crowd can be disrupting for some, other players  greatly appreciate the boost it gives them. 
"I really liked the energy in [the gym]. It was nice," said other captain Katie Kent '23. 
Kent, who provides crucial back row defense in her position as a libero, had nothing but good things to say about her team after their game. 
"I thought [the game] went pretty good. I'm proud of my team," said Kent, "I [want to] shoutout Erin. She really showed up today." 
Erin Wheeler '24 had the crowd on their feet at Thursday's game as she delivered several powerful spikes to the other side. When Von Steuben showed signs of life in the game, Jones' hits kept the team on top, according to Maxwell. 
"We can put the ball down when we need to. We're great at doing that. When we're in a rut, we just pull ourselves out," said Maxwell. 
The team hopes their strength can carry them all the way to city championship, a victory they hope to take back to Jones this year.
 "Our goal [for this season] is to win the city championships," said captain Maxwell.
Jones volleyball games are already highly regarded by many students, but players and observers alike found that between the special cause and the high quality of play, the atmosphere on Thursday was different than the average game.
"I just think [Dig Pink] brings the school together, and I think we saw that happening tonight," said Maxwell.
Leave a Comment