From the city of love to the windy city
French exchange students visit Chicago from Paris, France
Bon voyage! The French exchange students from Lycée Fénelon, a high school in Paris, explore Chicago and live with their American students in the process.  The group of 23 students experienced American culture and visited notable landmarks around the city.  Since Lycée Fénelon being the new French exchange school, Tory Waterman and Ms. Fontaine, the French exchange teacher, made sure the French students were matched up correctly to their American students.
With visits including the Art Institute, the History Museum, the river architecture tour, and a Sox game, the students were immersed into the history and traditions of Chicago.
"It's a good experience for both sides" said Waterman. "While both students are practicing their French and English, they are also interacting with new cultures." As the French students were exposed to the daily routines of a teenage Chicagoan, one student was more than amazed.
"The trip has been amazing," said 17-year-old Eve Chavannes from Lycée Fénelon. "We all learned a lot of things.  We learned more here with our correspondent than we do in a month with our teachers.  The city is amazing and it has been incredible."
In traveling 4,130 miles from Paris to Chicago, there are huge differences between the two cities.
"The hospitality is a lot different," said Chavannes. "American people are nicer to each other.  The way teenagers act and how they interact with each other and adults."
For many of the French exchange students, this was a first time trip to Chicago.
"I have always wanted to come [back] to America," said Chavannes. "I have been to New York twice.  I really like Chicago. I really like Millennium Park, Ravenswood, and the Loop."
Along with the French students experiencing new cultures, the hosts were also getting a good taste of this program. This year, there were 23 students at Jones hosting. Kayla Stevenson '16 felt like her time with her French student was beneficial academically, yet entertaining.
"They [French students] encouraged me to try speaking more in French with them," said Stevenson. As she improved her knowledge of the french language, Stevenson said, "I wanted to share experiences that would be considered normal here but would seem foreign to someone else."
Stevenson's goal was accomplished as the students from France shared their experiences in Chicago.
"I was so excited to try the deep dish pizza," said Chavannes.
Some of the students' families have been to America before as well.
"My dad used to live in Chicago when he was younger as an architect," said Chavannes. "He lived here one or two years, so he told me everything I needed to know about the city.  He told me a lot of things have changed since he lived here, but that it was a great city.  He thought it was more beautiful than New York, architecturally speaking."
At the end of the 10 day trip, both the American and French students were satisfied. Both sides experienced new cultures and made friends while putting a new language into practice. Stevenson said, "a lot of kids make friends that they stay friends with for the rest of their lives in exchange programs, so that interested me too."
About the Writer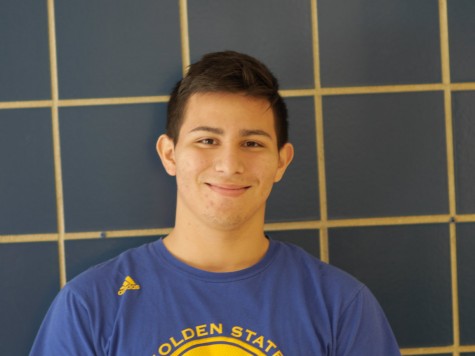 Cristian Espinoza '16, School Staff
Interests/Hobbies: Playing soccer, walking my dog, bike riding, playing piano, playing with computer applications like Photoshop.

Extracurricular Activities:...