Service against hate
English service learning project draws attention to Asian hate
For an English II service learning project, sophomore students planned a Stop Asian Hate fundraiser selling food as part of an English department initiative to create more opportunities for volunteer work and fundraising.
Jessica Wong '25, who is credited with the idea of this fundraiser, started the campaign with fellow students Derrick Hernandez '25, Abril Avina '25, Finn O'Hara '25 and Stephy Lei '25.
"We wanted to raise money so that we could donate to an organization that helps fight Asian hate," said Wong.
Jeremy Quach, the English II teacher who oversaw the service learning project, described the change in service learning project guidelines this year.
"This year we've recently shifted away from doing something like a policy speech and actually trying to get them to do some real, genuine service," said Quach. "I tell my students, you don't have to solve your problem completely or anything like that. Just try to find some way to alleviate the problem in some way in our local community."
The proceeds will go towards the organization Asian Americans Advancing Justice (AAAJ), in response to increased hate crimes and biased-based harm, which rose 167 percent from 2020 to 2021, according to FBI data.
"It [AAAJ] has different types of groups that they work with," said Wong. "They provide services like therapy to victims of Asian hate crimes, make posters, organize protests and other things to raise awareness."
The fundraiser was the result of the English department moving towards volunteer work and fundraising to reach audiences outside the classroom to fulfill the CPS graduation requirement.
"Previously, we've done a policy speech and had students pick a topic of their own choosing and try to convince the class to care about it," said Quach, in regard to service learning projects. "One of the requirements [this year] is that it has to have an audience outside our class."
Conjunctionally, the fundraiser occurred during Asian American and Pacific Islander (AAPI) Heritage Month.
"I know they were just trying to sell to people in general. They spent a lot of time trying to figure out the best thing that they want to sell, knowing it's in the context of AAPI month," said Quach.
The fundraiser was a way to bring attention to a relevant issue at Jones, a school with 15 percent Asian student enrollment.
"I feel like at our school we don't really speak about anti-Asian hate crimes. I feel like this is a very relevant topic, especially for this year," said Wong. "I also feel like people only show the good side of being an Asian person in America, but ignore the repercussions that come with being Asian American."
The group behind the fundraiser hopes to push people to think about diversity in their own lives.
"This fundraiser will definitely start conversations among people, especially if they belong to more diverse friend groups," said Hernandez.
Apart from raising awareness, there is a large group expected to be interested in supporting the fundraiser and the cause.
"This is going to be centered around a school where everybody loves snacks, right?" said Hernandez. "Everybody is always open to buying something, especially if they know it's a small donation towards an organization they are willing to support."
Quach applauds the work these students are doing and hopes it will provide a model for future students.
"I'm really trying to be hands-off with it, and they really took control. It's really great to see them take this initiative," said Quach. "I think it's a really great model for other English II students who want to do service learning."
Leave a Comment
About the Contributors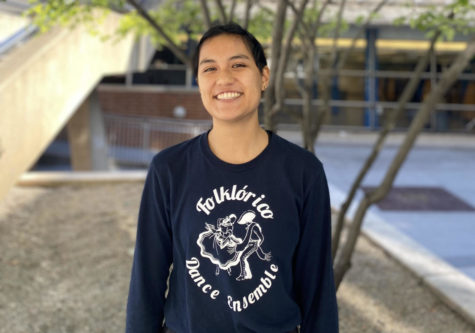 Sophia Calvo '23, School Staff
Sophia is a senior and a member of the School Reporter Staff. As her first year on the Blueprint team, she is eager to keep the school updated on the important...