A full-court feast
Senior Night win full of screams, cheers and pizza
The Jones varsity boys basketball team sealed an easy 71-41 win vs. EPIC Academy on Feb. 16. 
The following is a postgame interview with five players (Keenan Houlihan '23, Ben Mitchell '23, Will Ajayi '23, Sam Obioma '23 and Michael Burke '23) about their experiences as basketball players at Jones while eating pizza. 
It's Senior Night, got a nice win, everybody's celebrated, everybody played, how do you guys feel after that?
WILL: I feel great, man. There was a great environment out there, laughs, giggles, seeing the fans and supporters. I wish the band was there, but it was just beautiful seeing all the players. Everybody got [minutes], everybody scored. [It was] lovely.
SAM: I was ecstatic to see all my friends and family out there. Great team win, great way to go out. Love my family, my friends, I love my teammates. Made it a great night.
KEENAN: I would like to say that since I was a freshman, I've been looking forward to this night and it was fulfilled in a great fashion. Now we're feasting. I couldn't think of a better way to end my Senior Night.
BEN: I was really grateful to see so many people just coming out to support us. Now I get to feast, which is hype.
MICHAEL: It's great. We got an actual crowd for once.
Jones seniors set "betting props" of over/unders for certain stats for each senior. Did these motivate you to play at your best for the crowd?
BEN: When I drove on the baseline and took that layup, that ball stood on the rim for probably 25 seconds before deciding to just not go in. I just want to say that I would not change a single thing that I did on that play. That was a perfect play. I'm ashamed that I didn't hit my 8.5 [points]. I'm sorry.
KEENAN: I would like to apologize to absolutely no one.
SAM: To the person who I was walking with to practice, my bad, I only got one block.
WILL: My line was 2.5 free throws, I went to the line for four shots and went two-for-four. Bad beat. It just felt great being out there, last year's Senior Night was so great, and I feel like I'm stepping in the footsteps of twins Devin and Jordan Boston '22. I really want to be like them when I grow up. I'm going to be painting something just like them because they have creative minds, they're really smart and really intelligent. I just really love it.
MICHAEL: For the record, I never let my supporters down. I came through and followed through.
How's the food?
SAM: It's bussin'.
WILL: It's really good.
MITCHELL: This Pepsi is delicious.
How do you think that you guys were able to set an example for a lot of the younger players on and off the court?
SAM: As you know, we're a big group of seniors, there are nine of us. It's really important they take the reins and lead. Over the whole year, seeing them mature and become better people and better players is just really inspiring and I'm really hopeful for next year even though I won't be here.
BEN: I'd like to think that I showed Sam Byrd '24 how to hit a three today. Hopefully he follows in my footsteps, I'm trying to lead by example.
WILL: I personally feel like Byrd is a mini-me, defensive juggernaut. He's working on his form over the summer. I feel like Henry Close '24 is like a mini-Keenan. We have mini versions of all of us. They can really reach their potential and exceed it.
KEENAN: I feel like we have a special senior group because unlike a lot of stereotypical senior groups, we don't care what age a person is when we're interacting with them. We treat them with the same level of respect. Not only the juniors who we know well, but the sophomores and freshmen too. We've laid the groundwork for them to follow in our footsteps in terms of how to interact with underclassmen.
Will, you've been very talkative. How come you haven't wanted to do many interviews in the past?
WILL: I just needed to talk in front of a mirror first. It can be a little intimidating at first, but once you do it, you should really learn how to take the opportunity that's given to you. Like, go out and talk to that girl you want to talk to.
Anything else you guys want to add?
WILL: Subscribe to my YouTube channel, there are weekly uploads on Saturdays. I'll see you guys on the next one. Peace.
Leave a Comment
About the Contributor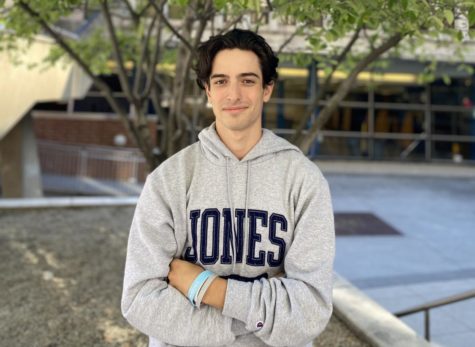 Jason Bernstein '23, Sports Editor
Jason is a senior and is the Sports Editor for The Blueprint this year. This is his second year doing journalism, and he is ready to keep the school updated...