A Wray to Remember
Math teacher John Wray's unexpected departure leaves students without teacher
Following the mid school year departure of Jones math teacher John Wray, a number of Math I students have been left without a permanent teacher. 
After teaching at Jones for several years, Wray left a few weeks into the new school year, taking a job offer at Oak Park River Forest High School (OPRF).
"Mr. Wray found a job in the suburbs at OPRF. He has family there and he has always been thinking about going to Oak Park," said Math Department Co-Chair Russel Kerr. "I know he struggled with the decision to leave Jones, but ultimately, he left."
Jones is trying to fill Wray's position. However, due to the lengthy CPS hiring process, the position may be empty for some time. 
"We have just interviewed and offered the position to a teacher applying from another school, so we're waiting to hopefully have her accept and go through the paperwork," said Math Department Co-Chair Kimberly Bowman. "A person will have to pass a background check, have a TB test, be fingerprinted, and that kind of thing. That just takes time."
Students in Wray's classes have been left without a permanent math teacher, but the Math Department has made efforts to keep the students up to date.
"In the meantime, a lot of the math teachers have been trying to check in with his old classes and keep the kids up to date," said Kerr. "They have regular substitutes come in but I've been creating some of the lessons, I check in with them, answer some questions, and create Google Classrooms for the kids so they can turn in homework."
Some students report that Wray's departure has impacted their learning, as they are getting less help and feedback on their work.
"I think the work has been a little bit easier since he left," said Jalisa Jones '26, a student in one of Wray's Math I classes. "With his type of teaching, if you didn't understand something…you would get help on the work. But now, the work is graded on completion."
On the other hand, some in Wray's Math I classes believe there hasn't been a notable difference in their learning since he left. 
"It's all the regular stuff we used to do," said Elena Mendoza '26, another student in Wray's former math class. "I don't think it really affected [our learning] because he was here for such a short amount of time so I never got used to his teaching style, but [him leaving] may have affected it a little bit. He was a cool teacher."
The Jones Math Department hopes to find a permanent replacement soon and keep the Math I students on track.
"We're trying to keep it on pace, but we really want to have a permanent math teacher again," said Kerr.
Leave a Comment
About the Contributor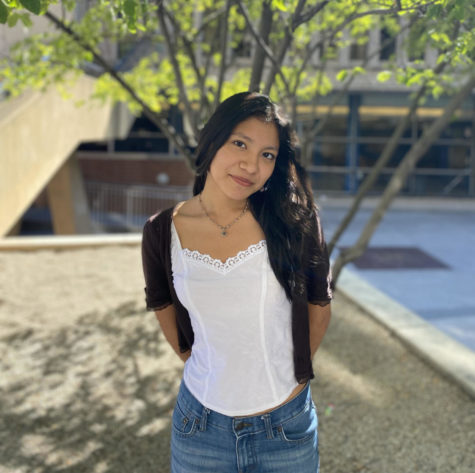 Leilani Freire '24, Lead Reporter
Leilani is a junior and on the school staff. She is always looking for film recommendations and enjoys listening to Sonic Youth, The Breeders, Hole, and...