Boys soccer sweeps Payton
Eagles win 2-1 in eighth game of season
The JCP boys varsity soccer team beat the Payton Grizzlies 2-1 on Saturday, Sep. 10 to improve to 5-3 on the season.
This was the second win against Payton since playing them in a tournament in Evanston and the team is feeling good about the win.
"It was a great game, a great team effort," said striker Paxton Hengesbach '24. "It feels good to get the 2-0 against Payton this year. It's awesome."
Center back Jeffrey Zhang '24 thought the team played well despite high temperatures.
"It felt really great, it was kind of hot, but we pushed through it," said Zhang.
Head coach Paul Zubb gave kudos to the team for performing well against tough competition.
"[Payton] is definitely a quality team. I mean, going back to last year, they're the best team that I saw [on the schedule]," said Zubb. "And then this year, we have new players filling in. Everyone has stepped up to the plate, and it's great to beat, pretty much, our biggest rival."
Zubb also mentioned the heat as well as the team's toughness and grit.
"Compliments to all the guys for fighting through injuries, fighting through adversity, the heat," said Zubb. "They've done really well and I'm proud of them."
Payton performed better in this match, according to Zhang.
"They're solid, they were definitely stronger than last time we played them," said Zhang. "But we're still better, so we just played through them."
Due to the matchup being their second meeting, the Eagles also knew what to expect, said Hengesbach.
"We know what they do, we know how to play against them. I think we played a lot better today than our previous matchup against them," said Hengesbach.
Payton scored with eight minutes left in the game, which decreased the Jones lead to one, giving the team a scare to end the game.
"We just [held] up our heads, you know, it's not that bad," said Zhang.
Hengesbach said the team worked together to pull through to the end.
"[The end] was pretty nerve-wracking, but I think we banded together," said Hengesbach. "Isaac [Simon '23] did a good job leading the back, the defense played amazing back for the whole game, all the subs played great. It seemed we just stuck together those last ten minutes."
Zubb praised the players for playing great defense in the last minutes of the game.
"[It was] just the kids getting to the ball, getting rid of the ball, fighting for the ball and not letting the ball go in the back of the net," said Zubb. "So compliments to them for getting in there and winning the ball. They did a great job."
In terms of momentum, a common theme was bouncing back from a conference loss to the Washington Patriots on Wednesday, Sept. 7.
"We're gonna keep working hard, keep practicing," said Hangesbach. "We got to bounce back in conference. We lost to Washington, and we're gonna bounce back into the city playoffs."
Zubb also credited bouncing back from a loss as good energy to carry into the second half of the season.
"Every game is different, but the most positive thing is bouncing back, and they bounced back extremely well," said Zubb. "They bounced back as a team together, and there is no 'I' in 'team,' is there? They played well and fought together, and that's the most important thing, they never gave up."
When it came to things to improve on, Hengesbach cited too much complacency.
"Playing with the lead, sometimes we go up and we get a little complacent, but it just comes over time," said Hengesbach.
Zubb also noted playing at a higher level and improving team comradery.
"Play faster, quicker. And for me, it's chemistry. And just be continuous with practice, but also a little bit of rest," said Zubb.
Shoutouts included the two players who scored the goals for Jones and the whole team going into their next game on Sept. 14 vs Back of the Yards.
"One [shoutout] to Hector [Jiminez '23] for scoring the first goal, and then the second goal for Paxson," said Zubb. "But ultimately, team effort."
Leave a Comment
About the Contributor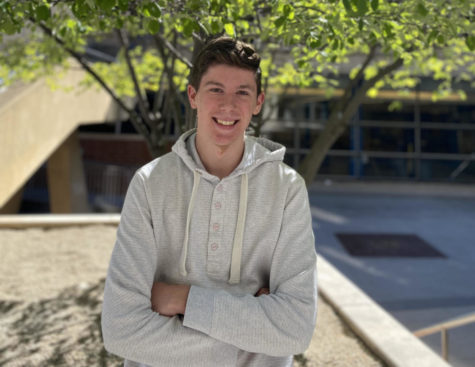 Noah Barbas '24, Online Editor
Noah is a junior and is the online editor for the Blueprint website. A second year journalism student, he enjoys making sure things look good. He plays...