New year, new changes
How Friends of Jones is implementing new adjustments in the school community
Since its creation during the pandemic, the diversity, equity and inclusion (DEI) chair of Friends of Jones (FOJ) has brought about a variety of changes for Jones students and parents of color. 
The board of Friends of Jones itself is made up of "chairs" of parents of students, and each chair represents a specific group of Jones' needs and wants. Currently, some chairs include library volunteers, newsletter and as of last year, diversity, equity and inclusion.  
"[The DEI] started off doing some kind of more informal conversations with clubs, but then it ultimately led into formalizing a book club for parents. We did a series on some books, and some book discussions that [were] led by Mr. Feeley," said Friends of Jones Chair Michelle Kerr. "Then from there, [the DEI] also created a kind of sub-team of that group, the parents' voice committee that looked at a number of issues around the students and their concerns about diversity, equity and inclusion." 
The original idea for the introduction of the DEI chair came after parents and board members wanted to find ways to incorporate change within FOJ. 
"After a lot of social unrest, we as a board decided that we wanted to make sure that we took a lens and looked at ourselves," said Kerr. "As well as, look at what we can do to help our community -the Jones community."  
The first person elected to the DEI chair last year was Jones mother and FOJ volunteer, Latrice McArthur. 
"I volunteered in the library or during Aclab, [so] I had an opportunity to really interact with a lot of students, and kind of had a rapport with some students," said McArthur. "I would kind of see some things and then actually be able to voice their concerns, and as that amped up, that's when we started having the conversations within FOJ that this is something that is necessary." 
This emphasis on student voices was the center of a lot of work that the DEI  focused on, and to continue some of this work, McArthur and others started the student DEI board. 
"Our student board is great," said McArthur. "It's comprised of various leaders of current student clubs, those that I identified that were really active in the Jones community, even during the pandemic and exemplified leadership."  
One student DEI board member, Cole Francis, shared the importance of the work that the DEI board is doing for students at Jones. 
"I think it's always great to hear from student voices," said Francis. "We're the actual people that are going to the school every day and [we're] seeing the ins and outs of it." 
In addition to student leaders, McArthur and others on FOJ have made a parent voice committee to listen to their concerns in accordance with those of students. 
"The parent voice committee works directly with the Jones Student Voice Committee to make sure that the concerns of the students are amplified, that parents know exactly what is taking place," said McArthur. "Then we come up with initiatives and conversations with the administration to make sure that the students' voices aren't being lost." 
Outside of discussion based change, the DEI works to build better relationships and community between students and parents of color, and the Jones community as a whole. 
"There are about 200 families that Spanish was spoken as their primary language at home," said Kerr. "So we learned pretty quickly that we needed to alter our practices if we wanted to be inclusive of that population."
For the Spanish-speaking community, for example, initiatives from the DEI have brought about new resources for parents to stay better connected and informed. 
"So Ms. Torres, one of the assistant principals, [is actually] hosting quarterly meetings [where she communicates updates on] what's going on around Jones in Spanish. [It's] what we're calling 'Tea with Torres'," said Kerr. "So friends of Jones sponsors that now, and helps to facilitate– again with the goal of trying to be inclusive of all families." 
So far, the DEI board has started to make some prominent waves within the Jones community, and current trends show they'll be making more. 
"Aside from the community building, after having several conversations with students, one of the things that [we] focus on is making sure that there's equity, academic equity," said McArthur. "We're looking at other ways to close that access gap to make sure that students of color, primarily African American students, [and] first generation students are aware of what they need to be doing to be competitive in this college application process early on in their high school education."
Leave a Comment
About the Writer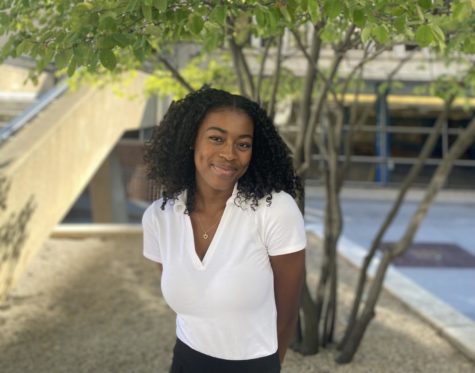 Ariel McGee '23, Deputy Editor-in-Chief
Ariel is a senior and Deputy Editor-in-Chief of the Blueprint! This is her second year on the Blueprint and she's extremely excited to continue honing...