Seniors face college application problems
Jones seniors navigate college application process with no in-person support
Since in-person school discontinued in March, seniors started postsecondary plans without in-person assistance. 
Pandemic restrictions caused SAT/ACT cancellations and seniors have to finish college applications during remote learning. 
A common concern for seniors is choosing schools without visiting their campuses. Bem Asfaw '21 said she is trying to compensate for in-person tours by contacting college students on social media and asking them for candid evaluations of their school. 
"It's honestly just talking to students who go there, trying to connect with them on Instagram, and just getting them to say the honest truth," Asfaw said.
Lily Beckert '21, who visited one of the schools she is applying to, said the visit significantly changed how she feels about the school. 
"It might not be the best place for me, and I didn't realize that until I actually had to go there," Beckert said.
Seniors also expressed doubts about whether COVID-19 precautions will allow them to have a normal freshman year at college. 
Liza Kholodna '21, who is applying to European schools, said she's grateful that she has options in places where the pandemic is under control. 
"They are fully back in school, like no hybrid, no restrictions," she said. "They're business as usual, which is awesome."
The pandemic also impacted students' letters of recommendation, which are required for most universities. Asfaw said the lack of time spent in school affected the quality of her recommendation letters. 
"[The pandemic] didn't affect their answer to my request, but I feel like it did affect the substance of their letter, like, how strong it was, and what they could write about, and how well they knew me, because so many months were cut off from our interaction," Asfaw said. 
Beckert said she wishes she could have spent more time with her current teachers to benefit her letters of recommendation. 
"I would definitely be more inclined to ask one of my teachers this year for a letter of recommendation if we had been in-person," said Beckert. "That way, I feel like they would have gotten to know me better and I would have gotten to know them better."
Some fret that they don't have enough activities to include on their applications after their summer plans were canceled. 
Beckert, who plans on pursuing architecture, said she was unable to attend a nine-day architecture program at Northwestern due to the pandemic.
"It was going to be a really big thing that I was going to put on my resume, and I was kind of banking on that," said Beckert. "So once it got canceled I kind of had to scramble to find online programs to put in my resume. Only one of them produced tangible items or things that I can put in my portfolio."
Many universities are test-optional for fall 2021 applicants, but the SAT is still a Chicago Public Schools graduation requirement. Koholda said her SAT was canceled five times before she was able to take it at Jones in September.
"Going into the one at Jones, I was like, this is really my only chance. And it was kind of nerve-wracking," Kholodna said.
Seniors also have to decide whether or not to submit their SAT/ACT scores to test-optional schools. 
"I've been hearing from admissions advisors that if we can take [tests] that we should because a lot of the times admissions counselors will see that you're not reporting scores and immediately assume that you just didn't do well," said Beckert. "That kind of scared me."
Other seniors take comfort in knowing that admissions officers consider the effects the pandemic has on their lives. 
 "It's super stressful, but what's keeping us together is just understanding that these [admissions officers] are humans," said Asfaw. "They know that it's out of our control, and we just have to try our best and do what's best for you in your own situation."
Leave a Comment
About the Contributor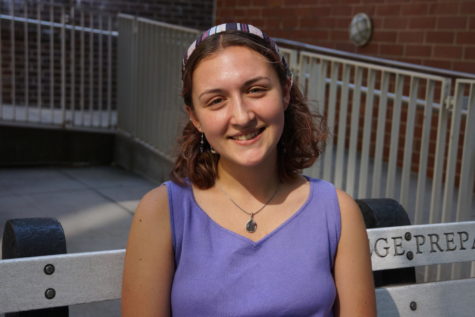 Whitney Shurtliff '22, Associate Editor, Print
Whitney is excited to continue at the Blueprint as Associate Editor of Print during their senior year at Jones. She also participates in National English...