Notorious everlasting
Life and legacy of trailblazer Justice Ruth Bader Ginsburg
Historic Supreme Court Justice, feminist icon, and global symbol of democracy Ruth Bader Ginsburg, fondly known as "RBG," died this Rosh Hashanah at the age of 87.
Ginsburg, the subject of countless books, films, and documentaries, has become a household name for people from all walks of life. We were two of likely millions of young girls who wanted to be just like her when we grew up. Though a product of the "Silent Generation," which encompasses those born between the years of 1928 and 1945, Ginsburg appealed to baby boomers and GenZers alike, eventually becoming a prominent staple of contemporary pop culture.
The daughter of immigrants, then Joan Ruth Bader graduated from high school at age 15, ultimately studying at Cornell University as the highest-ranking female in her class. While at Cornell, she met her husband Martin D. Ginsburg and gave birth to the couple's first daughter, Jane, one year prior to enrolling in Harvard Law School. Ginsburg ended up transferring to Columbia University and, in 1959, graduated as co-valedictorian.
Ginsburg's early legal career was fraught with discrimination, bias, and hardship – as a young mother navigating the patriarchal terrain of 1960s law, she encountered difficulty maintaining employment. In 1972, however, fate intervened when she co-founded the Women's Rights Project at the American Civil Liberties Union (ACLU), earning the title of general counsel the following year. Throughout her tenure as general counsel, Ginsburg oversaw several notable Supreme Court cases, including Reed v. Reed (1971) in which the Supreme Court extended the protections of the Equal Protection Clause of the fourteenth amendment to women and Craig v. Boren (1976), which challenged an Oklahoma statute that set minimum drinking ages for men and women. On Apr. 14, 1980, she was nominated by then-President Jimmy Carter to a vacancy seat on the U.S. Court of Appeals. 
At the pinnacle of her career in 1993, Ginsburg was officially appointed to the Supreme Court of the United States (SCOTUS) by then-President Bill Clinton, a position that she held for nearly 30 years. She was the eldest of the SCOTUS's liberal party and most well-known for her tireless crusades for gender equality, human rights, and voting rights. Ginsburg specialized in various social issues, primarily abortion and gender discrimination. Staunch in her view that women's bodies should not be regulated by any entity other than themselves, she was instrumental in ensuring the accessibility and affordability of abortion care throughout the United States. In arguably her most noteworthy case in the field of gender discrimination, Ginsburg dissented to a 5-4 opinion ruling Lilly Ledbetter's lawsuit against her employer unconstitutional in Ledbetter v. Goodyear (2007) and paved the way for the ratification of the Obama-era Lilly Ledbetter Fair Pay Act, making it easier for employees to win pay discrimination claims.
Unparalleled professional accomplishments and outstanding legal reputation aside, we were struck most by Ginsburg's demeanor. Standing at a mere 5' 1", she was feisty and outspoken, and thus a perfect embodiment of the adage "though she be but little, she is fierce." In a political climate in which partisanship trumps all human emotion, it was a heartwarming sight to observe her relationship with far-right Supreme Court Judge Antonin Scalia with whom, after a bitter dispute in court, she would be seen attending the opera that same night. In a testament to her resilience, Ginsburg endured metastatic pancreatic cancer from 2009 until her dying day but showed resolve like none had before her, appearing in court every day with a vehemence to fight on behalf of true American values.
Ginsburg was once quoted saying, "I would like to be remembered as someone who used whatever talent she had to do her work to the very best of her ability." Certainly, as two young women scrambling to appropriately summarize the life of one of the most remarkable women in history, we remember her as an individual who worked harder than any for the voiceless in America. The dawning realization that a girl raised on the streets of Brooklyn could rise to fight for Americans everywhere gave young women like us something to believe in. 
Now, only seven weeks away from the most pivotal election of our lifetimes, we are secure in the knowledge that her fighting spirit will remain within us.
View Comments (3)
About the Contributors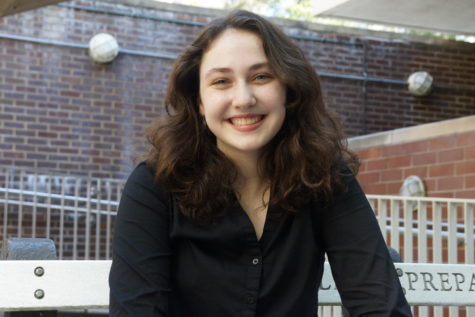 Fiona Kogan '22, Co-Editor in Chief
Fiona is a senior at Jones and this year's co-Editor-in-Chief of the Blueprint. Additionally, Fiona is involved with NHS, NEHS, Girl Up, and Young Democrats...