Quest for city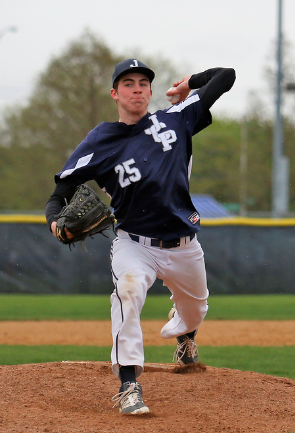 It was a cool Saturday afternoon in April when the Jones baseball team wrapped up an uplifting victory over conference foe Morgan Park, a team that had beaten the Eagles by a score of 20-5 the previous year. With this victory in mind, as well as the team's growing 15-4 record, many have raised the question of if Jones baseball could finally win their first City Championship. Different from last year's inexperienced roster, the team poses six senior leaders in Elias Kuhns '17, Langston Harris '17, Will Oppenheim '17, Joe Kelleher '17, Seth Bartusek '17, and Ethan Soderna '17, who could potentially bring them to that historic win.
Assistant Coach Michael Strok '05, believes that this team has the best depth in the conference, as well as the most experience. Speaking on his days as a player, he is proud of the way the program has advanced but still feels there is a missing trophy in the trophy case.
"We have one of the most experienced rosters that we've had at Jones in a long time," said Strok. "Our experience and maturity is one of the reasons why we have a really good shot at city."
There is a difference between having a senior heavy roster and a roster with senior leadership. If nobody is willing to step up and lead by example, then experience doesn't matter. Michael Keller '18 believes that this year's seniors have embraced the leadership role.
"They've done more than just help the younger guys with how to bat right or how to throw the ball correctly," says Keller. "They have also taught us how to represent ourselves off the field and how to present ourselves as a real team."
Another big difference from last year's roster is that this year the pitching rotation is arguably the best it has ever been at Jones. Led by Oppenheim, who is considered one of the top five pitchers in the city, the eagles also present lethal weapons in Joe Margolis '19, Dylan Spector '18, Bartusek, and Soderna. With these five on the mound, the rest of the team feels like they can beat anybody.
"When those guys are pitching, we feel pretty good about getting a win as long as the infielders and the outfielders do their jobs," said Kuhns.
Going into the City tournament, Jones sat at 8-5 in the conference putting them in third place behind Kenwood (11-1) and Solorio (8-5). Two notable losses of the five came at the hands of Kenwood in thrilling games, but the Eagles still felt like they didn't perform to their full potential.
"If we played them ten times, we would win eight," said Soderna. "We should've won both games, but we didn't step up when the time came. All we can do is hope we get another shot at them."
Outside of conference play, the other teams that stack up with Jones are Taft and Lane, two teams that Jones has struggled with in the past. Last year Jones lost 15-4 to Lane and 2-0 to Taft in the city playoffs. This year however hopes are high for both games.
"We're going to hold ourselves to accept nothing more than to beat them this year," said Oppenheim. "Lane embarrassed us last year and Taft knocked us out. That should motivate the guys off a little bit."
In the two remaining games for the Eagles before conference were matchups against Simeon and Solorio, both tough teams to beat. They were able to take the first game against Solorio on April 28 by a score of 2-0, but then split the two matchups with Simeon, losing the first by a score of 4-0, and then winning the second matchup 10-3.
"All the cards are aligned in our favor," said Head Coach Dave Rosene. "Now it's going to be a race to the finish line and a matter of who wants it more."
Unfortunately the Eagles hopes were dashed in the second round of the City playoffs. Their first round matchup was against Walter Payton College Prep on May 12, the eagles' senior night, and ended victoriously, riding a complete game by Dylan Spector to a 5-2 win. Then on May 13 the Eagles squared off against Lakeview High School at Kerry Wood field for a spot at the City Semi-finals.
After falling behind 3-0 in the first inning the eagles battled back behind Ethan Soderna to take a 5-3 lead going into the seventh, and last inning, relief pitcher Joe Margolis came on with no outs and a man on first and after walking one hitter, allowed the next batter hit a walk off three-run homerun to give Lakeview a 6-5 win. With a season full of high hopes and emotion, the loss was a dagger.
The Eagles battled back to beat St. Ignatius on May 17 10-2 and then tying Fenwick High School 2-2 on Monday. Next the Eagles look toward state playoffs with their first regional matchup on May 25 against Lyons Township High School.