Fall Sport Teams End Successful Seasons
Girls' Volleyball, and Boys' Cross Country and Soccer
Girls' Volleyball
Girls' Volleyball in its past seasons was a powerhouse of a team. Unfortunately this year hasn't been the team's best – with their record being 10-13 and the season almost coming to a close, things aren't looking so good. Since last year, the team has lost key seniors that were stars of the team such as Frances McDonald '14 and that dropped team chemistry for a while. But Varsity starter Brittany Lieber '15 keeps an optimistic perspective on their current situation. She says that regardless of their record, this year she sees "Extreme improvement" since the beginning of the season. The improvement within the team stemmed from "playing smarter than [they] did last year [and] having more teamwork."
With a team full of skilled players, the volleyball team is going to fight to hopefully end up going far in the playoffs.
Their final home game for the season took place recently on October 9th, and they took another win against Von Steuben. If the team continues to win, they could end up winning a state championship. Although the odds are against them, they still are trying to push through adversity; from having to deal with losing teammates to having to regain chemistry, they have overcome it all. And now, they might just reap the benefits of all their hard work.
Boys' Cross Country
For years running, Jones' Cross Country team has seen much success from the IHSA State Championships to the Chicago Public League Championships.
Runner Nico Moreno '16 stated that "the team is pushing for another winning season. I know we can do it if we push hard." Moreno believes that the key to attaining this goal is "[Going to] workouts and getting our times up."
So far the team has done well in big races, with Paletine being the highlight of the season.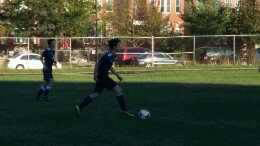 Boys' Soccer
Jones' Boys Soccer team have cruised through the season with a 8-2 record up to this point.
They have been on a mission to improve and Varsity player Jonathan Nunez '16 would argue that they have, saying that "Our team has worked very hard over the summer and our coach has done a great job." The coach hasn't been the only defining factor in their triumphs, seeing as their "chemistry has improved, making [them] better in every aspect."