Racing for space
Student-athletes face and overcome obstacles at shared NTA track
Jones student-athletes of various sports possess conflicting opinions about sharing the Jones National Teachers Academy (NTA) track with each other, including students from elementary schools.
Due to overlapping seasons and practice times, many teams are forced to share the track after school.
"We have about six groups and the middle schoolers from NTA and South Loop," said Boys Track Coach Carson Vittorio. "For a four-lane track, there's not a whole lot of space."
The large number of people utilizing the track makes it difficult for athletes to complete their workouts smoothly, according to students.
"I have to go all the way to lane two or three to get around these people who don't get out of the way," said track athlete Jacob Ward '25. "It's like an obstacle course."
Student athletes said that delayed starts affect their performance during practice.
"When you have to wait for people to get out of the way you lose the adrenaline rush and your readiness," said track athlete Norah Redgate '25.
Confusion and disarray are common feelings among athletes due to the chaos on the field.
"We'll be playing soccer and a coach will be screaming on the other side of the field," said soccer player Julia Riesman '25.
The limited amount of field and track space has forced athletes to find different spaces to practice.
"It's also complicated for us to figure out where we have to practice because we don't get the track 100 percent of the time," said lacrosse player Frances Koziboski '25.
The lacrosse team splits its practices between NTA and Grant Park, and players say this situation is not ideal.
"Having to practice at Grant Park affects our performance because it's always flooded or there's geese poop," said Koziboski.
The different practice venues strain athletes' performances and test their capabilities.
"There are people running and balls are flying everywhere, and no one wants to get hit," said Emma Rebolledo '25.
Sharing the track with the elementary students stirs up nervousness in athletes about their and others' safety.
"I'm scared I'm going to run into little kids because they're kind of oblivious," said track athlete Matthew Ostry '23.
However, these high school athletes of different Jones sports teams have built a connection in the shared practice space.
"I do see some of the guys and girls cheering on the soccer and lacrosse team, and they cheer on some of our guys and girls too," said Vittorio. "I feel like there's some sort of community here."
A new level of appreciation for different sports grew as students watched their peers practice and grow.
"It's nice to see your classmates playing," said Ostry. "I can respect the players more and they can respect us more by seeing how hard we work each week."
Students are able to connect with their classmates outside of school as they all meet at a common practice area.
"There are some kids in my classes here watching the game, and I got to go talk to them," said track athlete Jayden Reyes '23. "Just a little chit chat about the game and school in general."
Overall, students learned to deal with the obstacles at the track to continue their practices and games to the best of their abilities.
"Obviously, in a perfect world, we would have our own track field," said Koziboski. "But life is complicated. So are sports."
Leave a Comment
About the Writers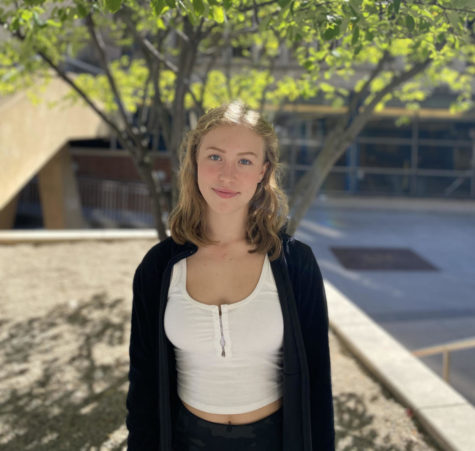 Julia Nedoshytko '25, Lifestyles Staff
Julia is a sophomore and is a member of the Lifestyles staff. Her favorite pass times are reading, playing the piano, and hanging out with friends. During...