Podcasting the process
Seniors break-down the college application process in new series
With the school year coming to an end, the college application process has just finished for one graduating class and is about to start for another. To explore the process, the Blueprint has launched a new podcast that will follow several Jones students on their quest to find the best college for them.
"I think for most people, there's a lot of second-guessing yourself, and there's a lot of worrying about what if I make the wrong decision," said podcast host Alisha Verma '25.
The podcast begins with current Jones seniors, Madeline Schubring, Ariel McGee, and Jason Bernstein, who have all committed to colleges.
"When we chose the seniors that we wanted to interview, we specifically chose them knowing their experiences in the college process, and we chose people who had very different experiences, but also very different approaches when picking their college," said Verma.
In the upcoming year, the Blueprint plans to expand this project by following current juniors over the next school year throughout their college application processes.
"Right now, we're trying to pick people who just have a variety of different perspectives and outlooks on the process as a whole," said Meghan Cuddy '24, the podcast's producer.
With this, more students will be able to relate to the project.
"Hearing from a student actively going through the college admissions process, everything is so fresh, everything is so new. I think underclassmen can get a lot out of that," said Verma.
In addition, the podcast will hopefully give students a better understanding of how to choose a college that's the best fit for them.
"I think that another really important thing that this podcast will help people learn is how to pick the right schools for them," said Cuddy. "I think Ariel had a really interesting outlook on that in her interview, and how she picked her schools and how she would change her application if she had the opportunity to do it again. I think one thing that's overlooked in the college process is picking schools that you want to go to."
In addition to helping students, the podcast is also intended to give students hope.
"My hope for this podcast is that it's going to be able to show people that there isn't really a right or wrong way to go about the college application process," said Cuddy. "It's really all gonna work out in the end, and you're gonna go to a school that you love."
Leave a Comment
About the Contributor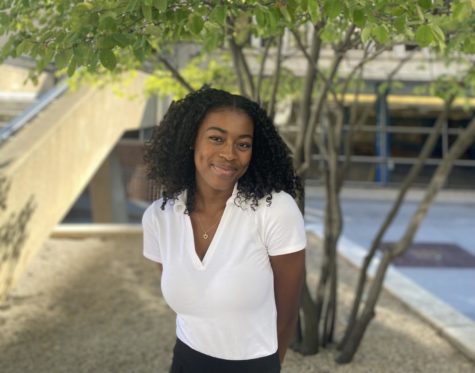 Ariel McGee '23, Deputy Editor-in-Chief
Ariel is a senior and Deputy Editor-in-Chief of the Blueprint! This is her second year on the Blueprint and she's extremely excited to continue honing...