SATIRE: Munch
Vending machine restock causes distress among student body
On Monday Feb. 27, Jones restocked the vending machines with a new wave of healthy snack items, causing debates among the student body.
"I snuck out of my Computer Science class as usual to go to the second floor vending machine," said Emma Nem '23. "But when I went to get me a Snickers bar, they were replaced with Nature Valley Granola Bars," said Nem.
The old location for chocolate candy and other sugary goods now houses all organic snacks. Granola bars, cereal bars, and many other healthy alternatives fill the machine.
"They are trying to trick us students," said Nem. "There are still potato chips in the machine, but now they are that Oven Baked crap. My nice, crunchy, oily chips are now the same consistency as cardboard," said Nem.
The recent changes come as part of CPS' "Eat Better, Test Better" campaign. Sally Lid, Jones Assistant Director of Health, believes the change will help the kids in all facets.
"We had been observing a steady decline in energy among students," said Lid. "After lunch, work productivity declined by 29% and sleeping students rose by 45%. A change was needed."
Already, teachers are noticing small improvements, but it comes at a cost.
"My third period class has been more alert since the changes to the machines," said Spanish teacher Senora Ańa Bolíc. "But I have seen an increase in hostility as well."
Many students rely on sugar to give them energy throughout the day. Without the stimulation, the teenage students become five-year-old kids who desire sweets.
"I WANT CANDY AND I WANT IT NOW!" said Nem.
  Even though the machines are gone, a black market begins to grow. Ran primarily by juniors, '6/11' is taking over. 
"We got our name because we are basically a 7/11, but we operate out of the sixth floor bathrooms," said a junior involved who wishes to remain anonymous. "We sell everything from candy and chips to beef jerky and Twinkies."
6/11 uses an Instagram page where students can place an order ahead of time and schedule a pick up. 
"I often get a bag of skittles and some gum," said Nem. "I have gym during the fifth period, so I run down a floor and pick up my snacks at 9 AM," said Nem.
Administration does not want 6/11 to get out of hand. They are increasing security on the sixth floor and are keeping an eye out for suspicious activity.
"We are not taking this situation lightly," said Lid. "We enacted this snack change for a reason, and we will enforce it."
With only a quarter left in the school year, it will be tough to make change.
"We considered letting the sweets back in, but the distributors are running far behind, and to be honest, I fear that they may now be working for 6/11," said Lid.
Leave a Comment
About the Contributor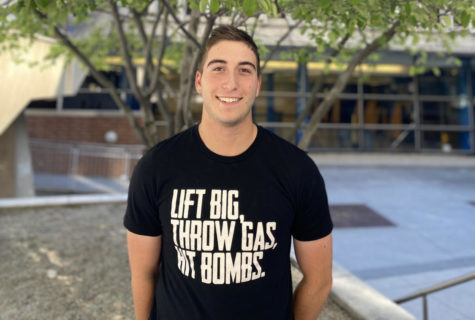 Dean goldman '23, Lead Reporter/Humorist
Dean is a senior and second year journalist at JCP. After a year on the sports staff, Dean is the copy editor this year and has big plans with the broadcast...