Over the net
Soccer star joins the Boys Varsity Volleyball team
Many students may know Brenden Dons '23 for his achievements as a Captain of the Boys Soccer Team, but he's recently made waves in the Jones community after making the Varsity Boys Volleyball team without significant prior experience. 
Before actually trying out for the team, Dons started practicing with more experienced members.  
"Last year during the winter season, the volleyball team had a lot of open gyms where they invited any other players that wanted to come," said Dons. "I didn't play last [calendar] year because I had soccer and I wasn't ready to commit yet, but this year I started going to open gyms every Saturday."
Initially, Dons was simply just having fun at the open gyms. 
"When I first started it was more just fun. I wanted to be good but I didn't have a reason to be good, so I wasn't as engaged whenever the coach was telling me to do something differently or to fix anything," said Dons. "After those first three weeks when I did start to take it seriously, it was kind of like a flip [in my] mindset," 
With his switch in mindset, Dons was able to use his time more efficiently. 
"I was 100% focused during those open gyms and I was trying to make the most of my time," said Dons. "Even little things like my Instagram feed, I realized every time I would scroll down everything started to become volleyball [centered] slowly. After that, I just fell in love with the game." 
But this isn't the first time Dons has changed his focus and decided to work hard for his new goals. 
"I've been playing competitive soccer for school and clubs for about eight years now," said Dons. "[At] Jones, I've been playing for [the boys soccer team] all four years. I made varsity junior year and then this year I [was] captain."
In addition to changing his mindset, Dons also has prior experience with switching sports. 
"When I was little I [did] karate, and after about two years, when I was seven, I started to do tournaments and I realized that I was really good," said Dons. "So then I went to the Junior Olympics twice and won gold in both of my parts (kumite and kata)."
After winning at such a high level, Dons decided to try something new. 
"One summer, [I] had just finished the Junior Olympics, and my mom asked, 'Do you want to play soccer this summer?' And [I said], 'Yeah,' and from there on I decided to do soccer instead of karate," said Dons. "I went to KICS, I did not know anything, and the tryout was embarrassing. But about two years later, I became the captain of that team. And I think the furthest we ever got was regionals." 
Now, Dons is looking for a new challenge within the Boys Volleyball team. 
"For soccer, I've been the captain of my club team, I've been the captain of [the team at] Jones and to go into a new sport where I'm not the Captain and I'm not the best player; it was a new challenge that actually excited me," said Dons. "Now I'm not the best or not one of the best, but I have to work really hard and that's something that I saw as a challenge."
Leave a Comment
About the Contributor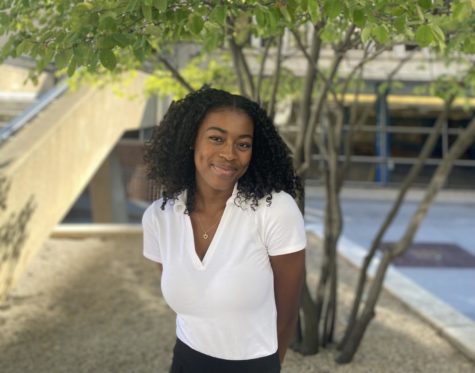 Ariel McGee '23, Deputy Editor-in-Chief
Ariel is a senior and Deputy Editor-in-Chief of the Blueprint! This is her second year on the Blueprint and she's extremely excited to continue honing...