Holy moley
Chemistry Homework Pass grows a Mole army
It's that time of the year at Jones College Prep when the chemistry classes collect dozens of stuffed moles, each portraying a mole pun.
The inspiration of the project is a mole, a unit of measurement used for measuring large quantities of small entities like atoms. Each student gets the opportunity to gain a homework pass by sewing a stuffed toy pun of the animal mole as a way to better understand the concept. 
The project hopes to captivate students and connect the concept of a mole with creativity.
"You are thinking about the atoms that you will never have a chance to look at so it's kind of amazing," said chemistry teacher Ying Zhang. 
However, the other goal of the project is to highlight the significance of the mole academically.
"A mole is something that you need to make sure you remember," said chemistry teacher Marlita Sanders. "Otherwise, the entire unit that has chemical quantities is going to be a challenge for you." 
Over time, the simple project became a Jones tradition with its teachers reviving it each year.
"I've been at Jones since 2001," said Sanders. "I have a mole that a college student made."
Each stuffed mole has left an indelible mark in each teacher's room that grows year after year.
"I want you guys to have some legacy left in my classroom," said Zhang.
The project impacts students as well and for some is a refreshing break from the stem-centered course load.
"It gives students the opportunity to be creative in nature," said Sanders. "It gives them the opportunity to use the other side of their brain."
People with a creative side and mind thrived with this project despite its difficulties.
"It's the most time I've ever spent on an extra credit project," said Chloe Goldberg '25. "But I've never been more willing to do it."
Goldberg made Mr. Incredimole, the furry version of Pixar's superhero dad.
"I was so excited to do this project because of the free creative range I had," said Goldberg. 
The excitement spread to the Art department as well where Art teachers were made busy by helping students sew their moles.
"People have to bring their own fabric but the art teachers can definitely give you tips and tricks on how to sew it," said Goldberg. "they are very excited to help."
Forest Pillman '25 made a stuffed Casserole mole with the help of the Art teachers.
"Sewing the Casserole mole was fun," said Pillman. "I went in the art room during Aclab and I sewed up a storm."
Art and chemistry do not regularly clash, but on the rare occasion they do, it can be a beneficial way of learning.
"I can only teach students from one perspective, that is from a science teacher, but when you're doing art you might learn differently," said Zhang.
The project allowed students to make their mole their own and interpret the project in whatever way they wanted.
"I want to see different parts of the student's personality and their creativity," said Zhang.
Isa Laporta '25 made a Guaca-Mole with the motivation of showcasing her skills and effort.
"Seeing Ms. Zhang's reaction to my mole was my favorite part of this project," said Laporta.
Ms. Zhang understands the negative opinion that many students have about Chemistry, but she wants them to know that it's actually interesting.
"I feel like all students think chemistry is kind of boring. It's not actually that boring," says Zhang. "You are learning about the atoms that you will never have a chance to look at so it's kind of amazing."
Leave a Comment
About the Contributor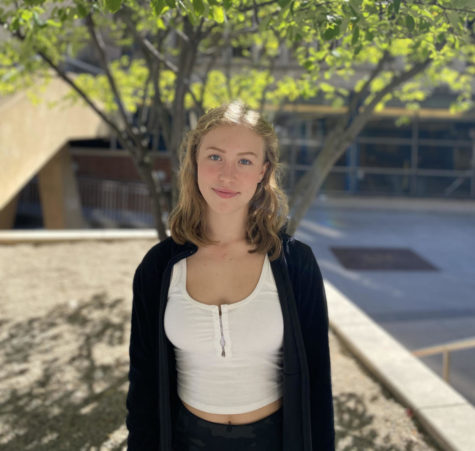 Julia Nedoshytko '25, Lifestyles Staff
Julia is a sophomore and is a member of the Lifestyles staff. Her favorite pass times are reading, playing the piano, and hanging out with friends. During...