Creating a community
All about the Jones Coalition for Chronic Illnesses and Disabilities
Up until this school year, Jones students with chronic illnesses and/or disabilities were without an official space to gather, learn, and advocate. Jones Coalition for Chronic Illnesses and Disabilities (CCID) has filled that gap. 
Three friends with their own individual backgrounds with chronic illnesses and/or disabilities recognized the need for community and decided to take action to address it. Nadia Bucio '24, co-president of CCID, felt inspired to share the idea of building this community to her two friends after connecting with them over their experiences with chronic illnesses.
"Forming a friendship with them and learning about their experiences with chronic illnesses, as well as my mom's, I realized how there was not a space for people with chronic illnesses and disabilities," said Bucio. 
The coalition is establishing a community as well as a space for people to speak or learn about chronic illnesses and disabilities, two topics often excluded in social or academic discussions.
"In my experience, I don't really know a lot of people with other chronic illnesses or disabilities, especially at Jones," said Maeve McGeehan '24, co-president of CCID. "I think having this group allows a lot of people to come and talk about whatever they want to, and that's really nice." 
The coalition is working to not only create an opportunity for allies and people with chronic illnesses and disabilities to meet up at Jones, but also to educate. 
"People can find power through understanding and communication. [These topics] are not talked about enough. I feel like people don't realize how much a parking space or how much an elevator could mean in people's daily lives," said Bucio. 
Bucio understands the impact of misunderstandings when it comes to chronic illness personally; her mom has lymphedema, a condition that causes swelling typically of the arm or leg. 
"There is a lot of misunderstanding where people think that [lymphedema] is obesity, or they think that [my mom] doesn't take care of herself. But in reality, it's a lot deeper than that," said Bucio. 
Often, CCID meetings consist of free-flow style conversations on different relevant topics or even on relevant history topics. 
"We have meetings where we center on a topic, for example a certain disease or something else the group wants to talk about. Our members will also come in and present slideshows on certain topics," said McGeehan. 
The group also spends time speaking on topics catered towards student-life.
"A lot of our central topics revolve around how to deal [with disabilities and chronic illnesses] within Jones, and that revolves a lot around accommodations, which are not always talked about," said Meghan Herrington '24, co-president of CCID.
These conversations are encouraged by the welcoming and relaxed atmosphere the trio are dedicated to fostering for their members. 
"We're definitely putting in an effort to make people feel open. That's the sort of relationship we have with our members; they feel comfortable to talk about these issues that they might not talk about with other people," said Herrington. 
The leaders also hope their members take away the skills to feel confident speaking about these topics outside of CCID. 
"We also emphasize that it is important that people learn how to talk about these issues so they can also learn how to advocate," said Herrington. 
For Asher Spangenberg '26, a member of CCID, the experience of an open and comfortable environment has let him connect with others and discover his own voice. 
"[As a member], I discovered three people who are also in CCID that actually went to my old school. [The community is] joyful. It's friendly. I'm not a very social person, but I think this community brings my voice out," said Spangenberg. 
While the coalition has a larger focus on creating a network and education system for their members, they emphasized that anyone and everyone is welcome to join them, not just those with, or close to, those with chronic illnesses and disabilities. 
"It's open to everybody. We do have a couple of members with chronic illnesses, and some that don't, but even if they don't know anyone impacted, they are open to hearing everybody and be there and be in the moment," said Bucio. 
Through an open-door to membership, alongside their Instagram (@jcp_ccid) where they post informational graphics, future plans to bring in speakers, fundraise, etc, they hope to combat ableism, which is a form of discrimination that harms those who are not able-bodied. 
"Ableism is not talked about as much as other concerns. It is not that it's more important than other concerns, but it's misrepresented a lot. We want to spread awareness on how ableism is very prevalent in society," said McGeehan. 
Specifically, they hope to bring awareness to how that appears within Jones. 
"I think a lot of people, students and teachers, don't realize the struggles students are going through," said McGeehan. 
Herrington points out a specific, and unique-to-Jones challenge that some face. 
"The elevator overcrowding is a prime example of biases and non-blatant ableism," said Herrington. 
Bucio added that the overcrowding "[takes] up the space that could be used by someone else who really needs it." 
Spangenberg believes the education and presence of the group can help to address concerns, such as the ones regarding the elevator. 
"So many people face health care discrimination, not getting the correct accommodations, struggles for teachers to recognize Individualized Educational Plans and 504 Plans, etc. I think the more people that know about chronic illnesses and disabilities and understand that they are real and valid, the less that would happen," said Spangenberg. 
With many plans for the future and logistics to plan out, the coalition is simply keeping their eye on finally establishing a long underrepresented community at Jones. 
"I would like for the Jones community to know people with chronic illnesses and disabilities are here. Even if you don't know anyone now, they're bound to enter your life at some point," said Bucio. 
For more information about CCID, you can join their google classroom with this code: tkjd6iq.
Leave a Comment
About the Contributor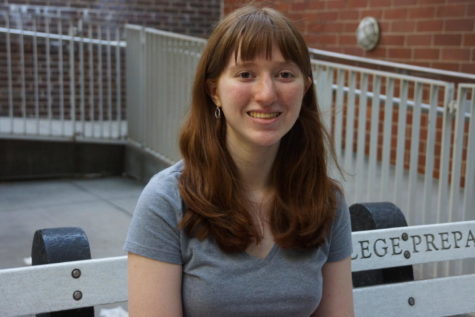 Sabine Kanter-Huchting '23, School Editor
Sabine is a senior and the Blueprint's School Editor. As her second year on the paper, she is looking forward to being a part of the Blueprint team again...