Fact or fiction?
Program at Jones designed to educate youth about the growing media landscape
For the last two years, Jones librarian Francis Feeley has been implementing a Media Literacy program for freshman social studies classes in order to equip students with the skills necessary to navigate the growing media landscape.
The first day of the three-day experience taught students how to fact-check media found on the internet and debunk fake news.
"We learned a lot of strategies, not just looking things up," said Katelyn Noonan '25. "Actual ways to test your sources like putting in a tweet on Twitter and checking to see if it's actually there, because there are websites that make tweets."
The second day of the program featured investigative group work to put the skills learned from the debunking lesson to use.
"Each group was assigned a specific role, but was assigned a folder featuring some items, media items that can be found online, pointing to specific issues and controversies," said Feeley.
As the third day rolled around, the class regrouped for a final student led discussion that summarized the goal of the course.
"We broke up the class into two roundtables. Mr. Bochnak hosted one and I hosted the other," said Feeley. "It gave us a chance to sit around in a circle next to our partners, and just kind of share your findings."
Students walked away from the class with knowledge they could apply to their daily lives.
"I've used the Twitter trick a lot where I actually look at the tweets and I go 'Hmm, is that real?'" said Noonan.
Many high school students are exposed to social media daily and use it as an outlet for their news.
"It's very clear that the students coming into Jones now don't have a before and after when it comes to technology," said Feeley. "They have been immersed in it for years, and in many cases, their whole lives. It's possible for somebody to be immersed in it, but not really be reflective."
The internet has evolved to the point where you can locate anything on it and it is accessible to all, so some students feel they should be purposeful about the media they interact with.
"We live in a world where there's a lot of new technology that is making misinformation and disinformation a lot easier to spread," said Noonan. "So I feel like it is our job to make sure that we are critical about what we interact with."
The Media Literacy course exposes students to both the good and bad sides of the internet and that not all who use it have good intentions. 
"People are willing to knowingly spread misinformation," said Mei Jennings '25. "And it's just shocking that people will know that information is wrong and still put it out there."
Feeley reinforces the importance of being able to recognize misinformation.
"I think it's extremely important that we empower our students, our communities, the citizenry, and gain mastery and be on firm ground about what's really happening and what is deceitful," said Feeley.
Jones students, and young people in general, have a significant impact on the media.
"Our students are not simply media consumers, but also media creators who have the capacity to influence people to change the world, hopefully, in positive ways," said Feeley.
Leave a Comment
About the Writer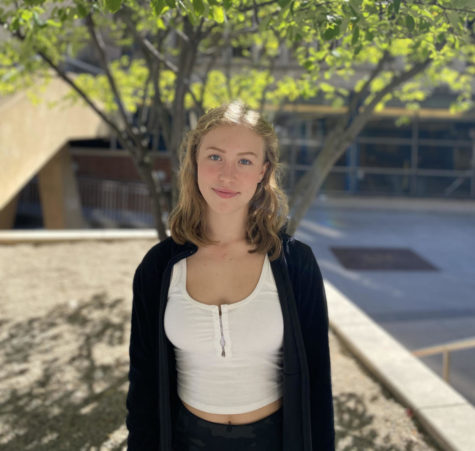 Julia Nedoshytko '25, Lifestyles Staff
Julia is a sophomore and is a member of the Lifestyles staff. Her favorite pass times are reading, playing the piano, and hanging out with friends. During...