The winners are…
Local School Council student representatives have been elected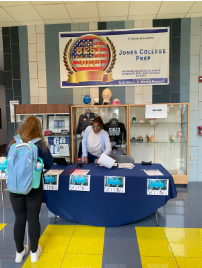 On Friday, Feb. 17, Jones College Prep announced Michael Lane '25, Annabelle Sanchez '24, and Martin McPhee '24 as the winners of the Local School Council (LSC) student representative election. 
One newly elected representative commented on wanting to create open communication between students and administrators. 
"It's really about increasing transparency. I think many [people] have the impression that communication is closed off. Open communication for students is really important," said Sanchez. 
Representatives also noted that they're focusing on financial issues specific to the Jones community.
"Right now, you either get all of your [school] fees waived, half your fees waived, or no fee is waived. I've always thought that's kind of a confusing system," said McPhee. "That's something I'd like to see change."
Though each representative holds their own agenda, they shared the sentiment that the main priority is gathering student input. 
"My top goals is obviously listening to the students. I want to make sure what the student wants the student gets," said Lane. 
Representatives also mentioned ways they're planning on having more student outreach. 
"My social media is always open. People can always reach out to me, even in person," said Sanchez. 
The representatives elaborated on their hope to draw on previous experiences in order to help them achieve their varying goals. 
"I'm a part of SGA [Student Government Association], so I learned how administration works and how change can happen. I'm hoping to work the same way as I do on SGA," said Lane. 
The winners already have been studying to prepare themselves for their new jobs.  
"I have read up on everything so I think I'm fairly knowledgeable on how the LSC operates and its history over the past few years," said McPhee.
Helping the school is the main reason the representatives stepped in to run.
"I felt like I saw issues with the school and I wanted to do my part," said McPhee. 
With a new leadership position awaiting them, the student politicians discussed the importance of refusing to waste any time. 
"July may be when I officially start office, but to me, I'm already in it. I'm working with students already to have plans set in stone for next year," said Lane.
Leave a Comment