Shooting for success
Jones girls basketball finishes solid season with a victory and high morale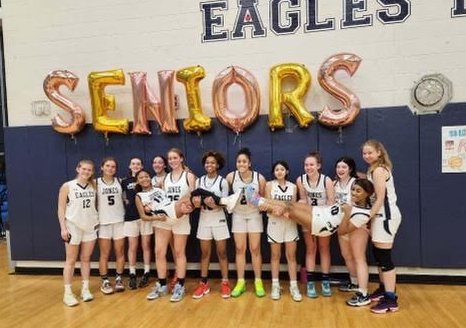 The Jones girls basketball team finished their season with a playoff victory against Thomas Kelly High School accompanied by strong communal bonds powering the team.
The season was viewed positively overall by the players, with the team getting better and succeeding throughout the year.
"We've steadily improved over the course of the year," said head coach Nicholas Teich. "We're still a young team that learned how to win at the varsity level."
Looking back, the players believe there were games that should've ended in their favor, but highlight team growth as a more important takeaway.
"We wish we won a few more of those close games," said Malia Harrington '23. "But I think this team has shown the most improvement and development out of the four years I've played basketball at Jones."
The team started with immediate success in the CPS playoffs when they defeated Kelly in their first game.
"In the first round, we definitely built up our confidence," said Harrington. "We came back from behind after halftime and dominated until the very end."
In the second round, the team faced a Whitney Young team who brought some tough competition.
"We advanced to the second round of the playoffs and lost to a very good Whitney Young team," said Teich. "They're top ranked in the state for both 4A and overall." 
During this game, even with the loss, the team seemed very satisfied with their performance.
"We had a team high number of 3-pointers against Whitney," said Harrington. "It was huge considering the caliber of a team they have."
Even with the state playoffs still remaining, some seniors are reflecting on their final season and their time playing basketball at Jones overall.
"It's my senior season, so I really just go out there and have fun," said Harrington. "Win or lose, I can say I've had fun being on this team and being teammates with these girls."
The teammates of the seniors feel very strongly about their fellow players, and have really enjoyed being on a team together. 
"I think Malia and Amari [Summers] both bring a lot of energy to the team," said Kylynn White '25. "Whether they're on or off the court, they always bring the cheers and they're there for everyone."
Having seen them grow during their time on the team, Teich also reflected on the lives of the seniors in basketball and beyond. 
"The seniors are excited to move on to their next step in life, whether that be a job or college," said Teich. "But it's also sad that this is the end of their high school basketball career."
With regards to connections made within the team, some of the players feel very strongly towards their teammates and the relationships that they've built with each other. 
"I've never been on a team that's been this close with each other and had so much chemistry," said Harrington. "Without them, I would be a completely different person and I'm forever grateful that I got to call them my teammates."
Underclassmen teammates expressed how they've been brought together by the seniors.
"[Malia and Amari] have taught me what it means to be a good teammate and a good leader," said White. "Especially Malia, she's always the loudest one on the court and sets a great example as a leader." 
Looking forward to next year, the team's future is promising, even though they'll be losing the seniors.. 
"I think we have some young pieces that have developed this year," said Teich. "We'll continue to develop in the offseason, and hopefully that development will turn into more wins next year."
Next Tuesday, the team will compete in the state playoffs and play what could be their last game of the season. 
"We play Whitney again for the state playoffs," said Harrington. "Our goal as a team is to shoot a team-record number of 3-pointers in that game."
Leave a Comment