Leaps in-bounds
2022-23 season marks notable improvement for boys basketball
After a disappointing regular season last year, Jones' boys basketball team bounced back with a 7-2 record in conference play. A new offensive strategy provided more opportunities to make things happen, especially for leading scorer Ethan Samuels '24. 
However, Samuels, who just eclipsed 1,000 career varsity points, isn't satisfied.
"Personally, I think I've had a pretty average season," Samuels said. "We still have room for improvement."
Just like Samuels, other players feel they could have contributed more to the team's success, regardless of the season's positive results.
"I feel like I've been really inconsistent this year in terms of my performance. At my best, I exceeded the expectations I set for myself, but I disappointed myself with how I played at my worst," guard Ben Mitchell '23 said. "The same idea applies to the team as a whole."
As the end of the year approaches, so does the Illinois High School Association (IHSA) State Final Tournament. The Eagles didn't make it very far a year ago, but they think that the results will be different this season.
"We are constantly adding to our offensive repertoire, but I think we are really just trying to establish consistency in terms of performance," Mitchell said. "Everyone expects to make some sort of run, we have high standards for ourselves."
As well as scoring the ball, the players know that they have to limit opportunities for the other team to score by keeping the ball in their possession.
"We are trying to clean our on-ball, full-court turnovers. In my opinion, that's what's going to make or break us heading into state playoffs," said Samuels. "If we take care of the ball, play at our pace, and play hard, then we can go on a run and open some eyes."
They know it won't be easy, but the team is looking forward to creating problems for their competition in the coming weeks.
"There's so much up in the air, but we want to go far and knock off some of the inevitably good opponents that we'll face," said Houlihan. 
At the end of the year, forward Will Ajayi '23 kept it simple.
"I [played] decent, [we have] good chemistry, we flow together," Ajayi said. "We just take every game one at a time, to be honest."
The energy in the locker room this year has been contagious, and everyone is ready to finish the season with a bang.
"The team's comradery is a lot stronger and I think that's the reason why our record has improved from last season," said Samuels. "I am very proud of what we have accomplished this season."
Leave a Comment
About the Contributor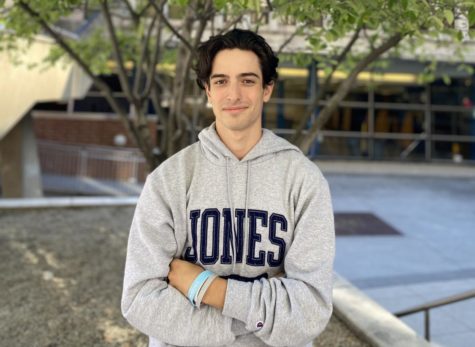 Jason Bernstein '23, Sports Editor
Jason is a senior and is the Sports Editor for The Blueprint this year. This is his second year doing journalism, and he is ready to keep the school updated...