New year, new yearbooks
Yearbook Club is making updates to the yearbook
As second semester commences, the Jones Yearbook Club is setting their sights on the new and unique updates to the 2022-2023 yearbook. 
After years of COVID-19 related interruptions, Yearbook Club Co-Editors Liz Falck '24 and Nora Wunsch '24 are creating the yearbook with the hope of increasing engagement. 
"This year, we wanted to focus on [creating an] interactive yearbook. So there's going to be a lot of games, similar to that of a kid's menu. Even some 3D elements, too," said Wunsch. 
Some of these elements include more traditional activities, whereas others are newer. 
"There's going to be puzzles, word searches, and lots of student-made doodles. We [even] have a match the teacher to their baby [picture] page," said Falck. 
The club will also offer prizes for purchase to go along with the free yearbook for all students.  
"We're planning on selling students' and local businesses' drawings and stickers. So at the end of the year, you can purchase a little baggie [of drawings, stickers,] 3D glasses, and things to make the yearbook a little more fun," said Falck. 
These updates, though, are about more than hitting the refresh button for the yearbook. 
"As new leaders, we wanted to make something special for our first year running the club. I feel like with COVID-19, there's a lack of interaction, and with this interactive yearbook it signifies a new beginning of being more involved with the community," said Wunsch. 
Additionally, the Yearbook Club discussed adding in features that would align with this year's theme. 
"It's something new, it's fun and it goes along with our theme, 'Wreck This Journal,'" said Josephine Oktem '24, a member of the Yearbook Club.
On a mission to create something special, the club embarked on a new creative process when it came to putting together this year's yearbook. 
"[Usually] it's a cut and dry template process of making the yearbook. It's monotonous and boring," said Falck. "But this year, we went in on every page with our own individual ideas, so no page is the exact copy of another one. It's more organic than the original yearbook."   
Members of the team also commented on the importance of trying new things with the yearbook.
"The yearbook is meant to help you reminisce," said Oktem. "Every year is different and we want to try and capture those differences in one book."
When all the work is said and done, the club hopes the Jones community will appreciate their work. 
"I hope that [our work is] fully received with love and that people remember that we are students who are giving up our free time for this," said Falck. 
They also suggested that students get involved in helping them put together the yearbook. 
"Email us with photos [of] doodles and submit photos [of your life at Jones], specifically summer photos," said Falck. "You can either email me at [email protected] or DM our instagram @jcpyearbook. Mr. Hilbrands has also sent out emails with a google form to submit photos too." 
However, the Yearbook Club also noted that they have more tricks up their sleeve.
"There's a lot more surprises coming, so stay tuned," said Oktem.
Leave a Comment
About the Contributors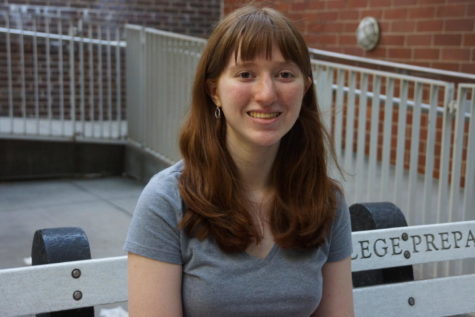 Sabine Kanter-Huchting '23, School Editor
Sabine is a senior and the Blueprint's School Editor. As her second year on the paper, she is looking forward to being a part of the Blueprint team again...