Raising Cane's, raising spirits
Popular restaurant chain now open near Jones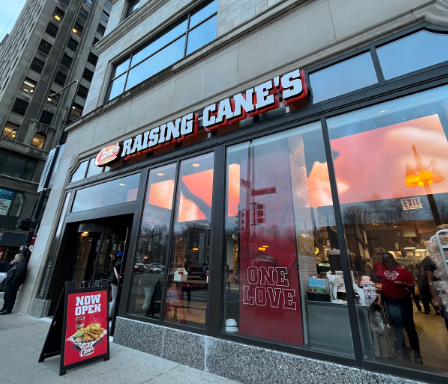 Jan. 10 marked the grand opening of the highly anticipated Raising Cane's restaurant located in the Loop, only blocks away from Jones.
Raising Cane's held an energetic opening party for their new restaurant, which included a DJ, a photo booth, and a claw machine. Crowds rushed in as the doors opened at 10:00 AM, joined by several Jones students throughout the day.
"The overall environment was so cool. There [are] disco balls and it's so colorful inside the restaurant," said Rowan Boyle '25, who visited on opening day.
Cane's has been a fan favorite for years prior to the chain's opening of a new downtown location. Having this establishment open so close to Jones is a thrilling addition to the selection of spots for sophomores, juniors, and seniors to visit during their off-campus lunch. 
"My friends and I will enjoy having Cane's [since it's] so close to Jones," said Haddon Talsma '25. "Having one of my favorite restaurants so close by offers a nice break from everything."
Students noted that they share this air of excitement regarding the newest Cane's location. 
"I am stoked," said Sarah Portnoy '25. "Honestly really, really excited about this new Cane's." 
The grand opening was so highly attended that many commented that not everyone was able to enjoy the newly opened restaurant. 
"The line on Tuesday was insane. It was all the way down the street and I could not get in," Talsma said. 
Still, students said that they did not let the crowds ruin their Raising Cane's experience.
"The crowding definitely died down by the end of the week, but there [were] still a lot of Jones students going during their lunches," said Boyle. "I don't really think the interest in Cane's will die down any time soon." 
Jones students' excitement surrounding the new Raising Cane's is still going strong, even a couple weeks after its opening. 
"I don't think I'm going to get sick of Cane's, no matter how many times I get lunch there," said Talsma '25. "I definitely plan to go to this new Cane's a lot with my friends in the future."
Cane's will undeniably be a staple in the Jones student diet for many years to come, according to multiple students.
"I can't wait to go to Cane's again. I'm so happy a new location opened so close to Jones," Portnoy said.
Leave a Comment