Working overtime
Recap of Jones' boys basketball past four games with Coach Kav
The Jones varsity boys basketball team is off to a 7-4 start on the year, including a 3-2 record in conference play (Chicago Public League – White West).
With their past four games only having a combined point differential of 19 points and two of them going to overtime, Jones, led by Ethan Samuels '24, has been playing competitively. 
"What has been most impressive is just how much Ethan has added to his game," said head coach Richard Kavalauskas. "He is one of the most efficient scorers in the state. He is shooting slightly above 50% from the field and allows the game to come to him."
Although the Eagles suffered a heartbreaking 55-51 loss against Marshall on Dec. 7, Samuels tied the game with a contested deep three at the end of regulation time. He finished with 24 points.
"We have plays designed specifically to get Ethan shot attempts, and his teammates have done a nice job executing the offense," Kavalauskas said. "He has done an outstanding job taking what the defense gives him."
Samuels then dropped 27 points on Crane Medical, catapulting them to a 48-44 win on Dec. 10.
"Crane is a gritty, tough team. Our guys did a nice job communicating, talking, and rebounding the ball," Kavalauskas said.
To follow that gutsy performance, Trey Lay '24 put together a 21-point, eight-rebound game off the bench vs. Wells on Dec. 14, leading to a 54-52 victory.
"Trey has fantastic raw skill from an offensive standpoint. His footwork and touch around the rim is special," said Kavalauskas. "I think Trey can become one of the better post-scorers in our conference."
Jones however suffered a 60-51 loss against Payton on Dec. 16 due to a bad stretch in the first half.
"The story of the game was the second quarter," Kavalauskas said. "They outscored us 17-3 [that quarter] and beat us on too many 50/50 balls."
Jones' next game is a non-conference contest against the 3-7 Harlan Falcons on Dec. 20.
Leave a Comment
About the Contributor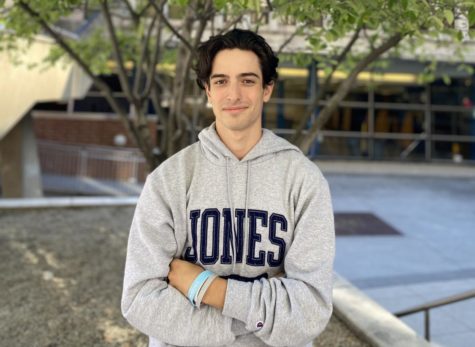 Jason Bernstein '23, Sports Editor
Jason is a senior and is the Sports Editor for The Blueprint this year. This is his second year doing journalism, and he is ready to keep the school updated...