Spreading the holiday cheer
December SGA events boost holiday spirit
December's roster of Student Government Association (SGA) events, which included a lock-in, candy grams, and cookie decorating, played a pivotal role in boosting Jones's spirit during the holiday season. 
"I [think] the holidays, in general, give SGA a great opportunity to fundraise for certain events and host something fun for the school community," said Rory Maxwell '23, Senior SGA Secretary. 
In the weeks leading up to winter break, the SGA held many events in hopes of spreading holiday spirit throughout the community.
"The sophomore class council [hosted] cookie decorating activities for students on Dec. 15. Anybody was welcome to attend and get into the holiday spirit," said Orla Gilroy '25, the Sophomore SGA President.
Leading up to finals, the Senior SGA organized a lock-in on Dec. 16, exclusively for the Class of 2023.  
"We had a holiday movie night with snacks and drinks and games," said Maxwell. "The event was intended to brighten the mood around finals and bring the seniors together for the first of many class events that we're planning on hosting this year."
The lock-in was the first in-school event hosted this year by the Senior SGA. The council previously organized an out-of-school Senior Sunrise in October.  
"This is my first year on SGA, so it's been quite stressful trying to figure out all of the logistics," said Maxwell. "It's taken up a lot of our time just to plan it, let alone set up and clean up the night of, so my hope for the event is that people enjoyed the work that we've put into it."
The SGA events double as fundraisers for individual class councils. Yet, regardless of grade, everyone was welcome to interact with any event. 
"For instance, seniors could buy whatever they want, even if it was a junior [fundraiser]. It's just that the junior council was [hosting] it, but that doesn't mean that only juniors could buy [items]," said Dorsa Kameli '24, the Junior SGA President.
Both the senior lock-in and sophomore cookie decorating had costs to attend, with the intention of not only raising holiday spirit but also money for other events. 
"I really hope that the event boosts the holiday spirit and raises money for the sophomore class, [which we can] use for future spirit, spirit raising or spirit boosting events in the future," said Gilroy.
When deciding on a holiday event, the Junior SGA decided to pay homage to the past by organizing candy grams, an event held in previous years by other class councils.
"The junior council last year did candy grams, which we, sophomores at the time, really enjoyed and wished to do again," said Kameli.
The candy grams event consisted of hiring a messenger to send candy to friends.
"We [had]  a table in the lobby where people [were] able to write notes to their friends," said Anna O'Brien, a Junior SGA Representative. "Then we [attached] them to candy canes and [delivered] them to their friends." 
SGA members utilized social media to advertise their events and spread information.
"I run the social media page. So I made a post to tell people about it. And we [continued] posting about it to remind students to bring money and come to our fundraiser," said O'Brien.
With the holiday season well underway, each council hopes their event will bring more holiday spirit to Jones while relieving finals-induced stress.
"[Cookie decorating] happened on the Thursday before finals, so [we] hope that it [helped] relieve stress for students and [made] people happier as the holiday season comes," said Gilroy.
Maxwell echoed that sentiment of spreading cheer for students. 
"I hope [with this event] people will take a day to not stress about finals," said Maxwell. "We want this [event] to build class camaraderie leading up to graduation and spend some time together not focused on school and college."
Leave a Comment
About the Contributor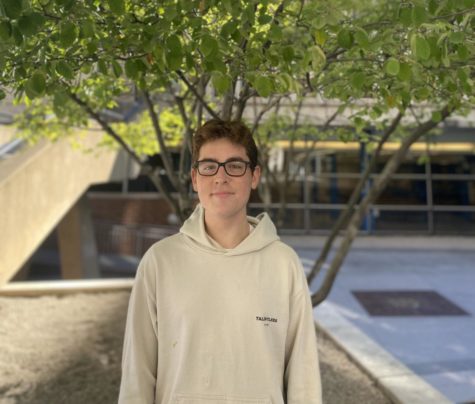 Gabi Josefson '23, Editor-in-Chief
Gabi is a senior who is exuberant to serve as the Blueprint's Co-Editor-in-Chief. It's his 3rd year on the Blueprint and he is thrilled to be part of this...