Soccer sweeps the school
World Cup's popularity evident at Jones
As finals week approaches, the Jones community faces the distraction and excitement of the world's largest soccer tournament, the FIFA World Cup. 
For the first time, the World Cup, which features 32 national soccer teams battling for the title of world champions, has occurred during the school year. Many students and teachers say the games have proved distracting in class.
"It's a little distracting both for the students and for me," said social studies teacher Jorge Perez. "I'll take a little peek and distract myself from actually teaching a lesson or making sure that everybody else is doing their work during class time."
However, many students enjoy connecting with classmates over the tournament, even those who might not gravitate towards soccer.
"I actually really enjoy the environment watching it in school," said Giselle Coronado '24. "I think everyone is interested in it even though they might not understand the way FIFA actually works. It makes school more enjoyable because you know you have something to look forward to."
Since many people root for teams that reflect their heritage, the World Cup demonstrated an opportunity for students to celebrate and share their cultures.
"I support the USA and Japan," said Anthony Flasck '24. "I am from America and my dad's American, and my mom's from Japan. Soccer is definitely a big thing in my family."
The United States national team garnered lots of support from Jones students, with watch parties being held for its group stage match against Iran during AcLab. 
"The USA really blew my mind because I did not expect them to be doing well," said Coronado. "But they had really good players, especially [Christian] Pulisic and their goalie [Matt Turner]."
Even though many popular teams, including the U.S. and Mexico, have already been eliminated, interest in the tournament remains high.
"I was supporting Mexico but they got eliminated, so I'm not really rooting for anyone else," said Perez. "I've been supporting a few other teams but they're all getting eliminated [since] I like an underdog."
Others are taking a much more pragmatic approach, choosing to support teams with a history of success.
"I'm supporting Argentina because they have much better stats than other teams and have star players like [Lionel] Messi," said Viri Camarillo '24. "They had a rough start, but I think they're getting back into the game."
For students who already enjoyed playing or watching soccer, the popularity of the World Cup gives them the opportunity to share their passion.
"I've been playing soccer since I was in third grade," said Coronado. "I feel like it's a special connection that I have with my dad to enjoy the sport that he loves the most, especially since he played for such a long time. Now I get to take that hobby into my life."
This wintertime World Cup has seen the growing popularity of soccer in the U.S., and it is reflected in the Jones community.
"Soccer is not a very popular sport here in the US, and the World Cup also usually takes place during the summer," said Perez. "It's nice seeing this many people watching and being invested in soccer."
Leave a Comment
About the Contributor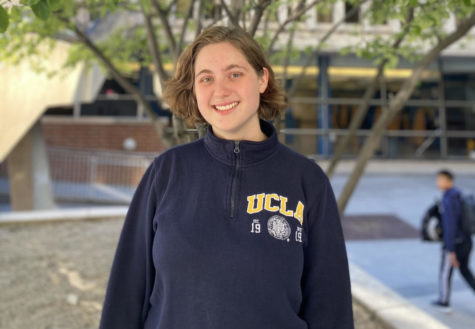 Karen Buecking '23, Lead Reporter
Karen is a senior and is Lead Reporter for the online section. She is in her second year on the Blueprint and is excited to provide local news and analysis...