Bucket at the buzzer
Samuels' ice-cold three gives Jones the season-opening win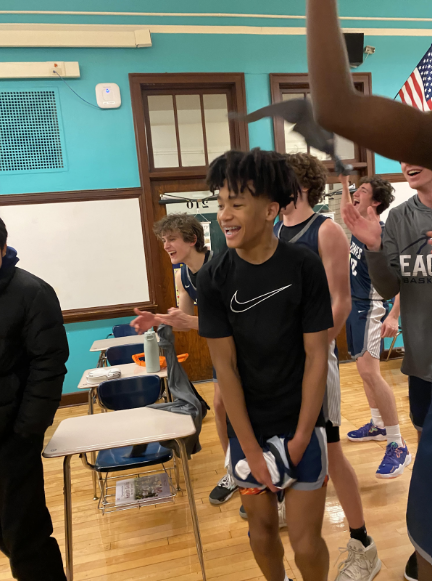 Ethan Samuels '24 and the Jones varsity boys basketball team defeated Lane Tech on their home court 54-53 in style on Nov. 21 to secure the first win of both the 2022-23 season and the Battle of The Bridge Tournament.
Samuels hit a pull-up three at the top of the key with 2.0 seconds left to cap off his 29-point performance with an exclamation point.
"I feel amazing. It really feels surreal [after] all the work we put in as a team, all the work I've put in," Samuels said. "When I caught the ball, I knew I was going to come off the screen and pull up the shot no matter who was standing right there."
Head coach Richard Kavalauskas said he had a good feeling when Samuels had the ball in his hands.
"I was watching Ethan, the trajectory of the ball, I was right behind him. I thought for sure it was in," said Kavalauskas. "That whole game he was feeling it."
While Samuels was the primary source of offense, the entire team's defensive rebounding and lateral quickness gave Lane Tech's offense fits.
"Everybody boxed out, everybody was scrapping for boards, that gritty type of mentality is going to lead to success on the defensive end," Kavalauskas said. "Michael Burke '23 was a big part of that, so was Sam Byrd '24."
It was the first game for transfer Trey Lay '24, who also played very well defensively. However, it was his offensive chemistry with Samuels that was relied on heavily down the stretch.
"Ethan has been my guy for a couple of years. I've known him since grammar school, so we have that connection," said Lay. "That helped us a lot. He got good shots off the screens, I know how he likes them set. I tried to put him in the best position to score."
The team started the game strong offensively, with Keenan Houlihan '23 scoring Jones' first seven points.
"[I feel] fantastic. Better than I've ever felt," said Houlihan. "The fastbreak was great [early], we're faster than their whole team. We have a lot of speed, we try to use it to our advantage."
Going into the fourth quarter down five points, Jones rallied by outworking Lane Tech in the last few minutes.
"We just had to find our identity, find out how we play together," said Lay. "Everybody played their [butt] off and it just feels great to beat that team."
Their performance late in the game led to the win, but Samuels said he would like the execution to be more steady in all four quarters.
"We need to work on playing consistently throughout the whole game," Samuels said. "When it comes to turnovers, allowing offensive rebounds, we definitely need to work on [that]."
The defense led to a lot of positive things offensively, including easy points and free throws.
"Our full-court press, once we went into that, it was locked down and we forced some turnovers. We got back quickly, [we were] efficient," Houlihan said.
With all said and done, the game was won due to Samuels' creative scoring ability, according to Kavalauskas.
"When Ethan has that hot of a hand, you just have to find the different sets that put him in a position to be the most successful," said Kavalauskas. "Ethan just had such a great game."
Samuels had only one thing to say about what was going through his head on the last possession.
"I was not looking for overtime."
Leave a Comment
About the Contributor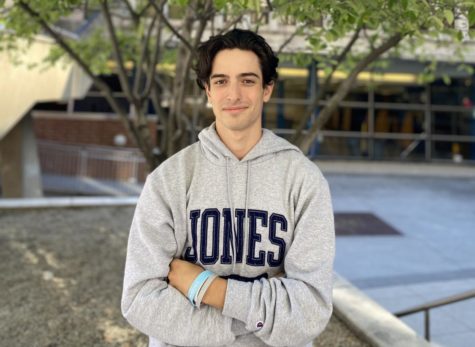 Jason Bernstein '23, Sports Editor
Jason is a senior and is the Sports Editor for The Blueprint this year. This is his second year doing journalism, and he is ready to keep the school updated...