Spirit Halloween at Jones
Two students go above and beyond with Halloween costumes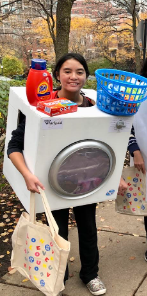 This Halloween, Jones students Armahn Moorman '25 and Sabine Muñoz '25 were the winners of costume contests organized by the Student Government   Association (SGA) and administration. 
SGA arranged a costume contest on Instagram where participating students would post a picture of their costume to their story and tag SGA for a chance to win.
"I would say it wasn't very intense. I submit my picture and I get the results," said Moorman, winner of the Instagram contest.
The administration contest took a different approach where contestants showed off their costumes on a stage in the lobby and competed to win a $25 Starbucks gift card. 
Judges of the administration contest shared the sentiment that they were quite specific about what they were looking for in a winner. 
"I was looking for individuality, looking for something different, and who expressed themselves better with their outfits," said Ivett Alicea, a lunch lady and judge of the contest.
Muñoz, the winner of the administration's contest, was noted as having wowed the judges with something they had never seen before.
"I was a washing machine," said Muñoz, who wore a white cardboard box made to look like a washing machine, fit with laundry detergent and a basket of clothes. "I wanted to participate because I thought it would be interesting to see other people's costumes."
A Halloween family tradition inspired Muñoz's unique costume that she decided to share with Jones.
"My family does a themed costume every year and so this year we chose cleaning supplies," she said.
The costume was made mostly from household items put together in order to make it look realistic.
"The washer door was challenging because my mom insisted on real water and bubbles inside," said Muñoz. "A quicksilver spray paint around the rim made it look like the real thing."
A costume made from household supplies came a long way and gained originality points with the judges. 
"They were very creative. Especially the one with the washing machine," said Alicea. 
Although there were two costume contests, each offered something different to the students.
"We just decided to do one that was lower commitment," said Aj Apprey '25, a sophomore class representative. "We also decided that the prize would be an Instagram shoutout."
 The Instagram contest hosted by SGA was also commented as having attracted a variety of contestants.
 "We just looked for creativity and dedication, not something that you would wear on any other day," said Apprey. "Something that you actually put work and time into."
From the original design of his costume to the card stuck to his face, Moorman checked all of these boxes and was voted the winner of SGA's costume contest.
"I was the Mad Hatter. But it was more my interpretation," said Moorman. "It was like a Mad Hatter and steampunk collaboration"
Costumes around the school reflected different media and game characters from pop culture.
"My inspiration was actually from the game 'Alice: Madness Returns,'" said Moorman. "In the game, Alice is dressed in a steampunk-type outfit and I wanted to do the same thing but for Mad Hatter."
Once Moorman decided on the design of his costume and the materials he was going to use, the whole thing came together much easier.
"For the design, I remodified the jacket and pants and made the accessories," said Moorman.
Overall the costume contest and the opportunity to showcase their outfits was fun for the winners.
"I actually loved it. I would say it was a 10 out of 10," said Armahn. 
Alicea echoes Armahn's thoughts about the contests.
"Everybody joined in and was having fun. It was great," Alicea said.
Moorman encourages other students to participate in future contests and offers some advice.
"I will say go all out," said Moorman "If you know that you want to do this just give it your all because you never know what will happen."
View Comments (2)
About the Contributor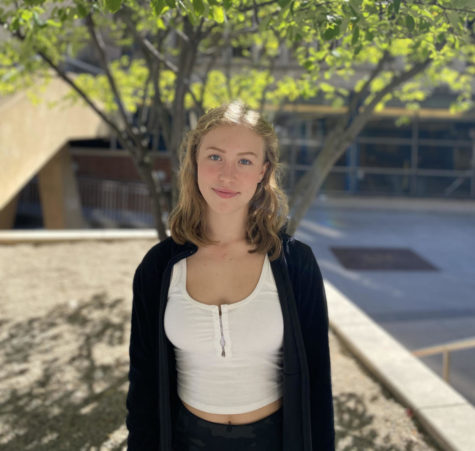 Julia Nedoshytko '25, Lifestyles Staff
Julia is a sophomore and is a member of the Lifestyles staff. Her favorite pass times are reading, playing the piano, and hanging out with friends. During...