SATIRE: JCP Precheck
Security increases lead to new rules
To better ensure student safety, Jones is adding new security protocols to the daily entrance procedure. The new moves come after security directors from O'Hare International Airport join the staff at JCP.
"I have been in the Chicago security and defense business for 35 years ," said new Chief of Security Erin Davenport. "Before O'hare, I worked at Wrigley Field, City Hall, and Gibson's Italia."
The immediate change is required metal detector scans for all students. The small change has had dramatic effects with students being late to the first period. 
"I got off the Harison stop at 7:45 this morning," said Abby Sent '23. "Yet, I got to my AP Stats class at 8:24. I have missed numerous quizzes and have had to use Aclabs to make them up," said Sent.
Many students have been asking for a way to bypass the line to get to their classes. Davenport has a TSA styled solution that will debut next week.
"I'm excited to implement JCP PreCheck," said Davenport. "For five dollars a week, students can go directly through the main entrance and get to the front of the line."
The money will go towards school trips, new textbooks, and other educational tools. Students are eager to register for PreCheck.
"As the weather gets colder, it is going to be really hard to wait outside," said Matt Hardy '24. "With JCP PreCheck, I will be able to get inside faster and be able to keep my shoes on while I go through the metal detector."
PreCheck is not the end of Davenport's vision. His team is preparing to turn the main lobby into a full on "terminal".
"We are going to address many problems that students have had for a while," said Davenport. "My team has requested grants from CPS in order to build a moving sidewalk in the link to expedite passing periods. We are also working on a much needed duty-free store to help students buy goods that are not allowed past the detectors," said Davenport.
Security has been confiscating metal silverware, liquids and gels over 3.4 ounces, and spray-on deodorants. 
"As a freshman, I have to bring lunch from home," said Sam Sonite '26. "I like to bring chicken breast and white rice which requires silverware. When security takes my fork and knife, I am left out to dry," said Sonite.
The "terminal" will also have a backpack check for off campus lunches. Students will drop off their bags at the security desk and pick them up at a carousell when they return. 
"I think the carousel will help clean up the crowding in the stairwell," said Hardy. "I know people whose bags have gotten stuck at the bottom of the pile and their chromebooks have cracked," said Hardy.
This is all going to be a big change for students, but it is all with safety in mind.
"I don't care if a student has to wait 45 minutes in -10 degree cold," said Davenport. "I am going to make sure that there is zero threat to the students of JCP."
Leave a Comment
About the Writer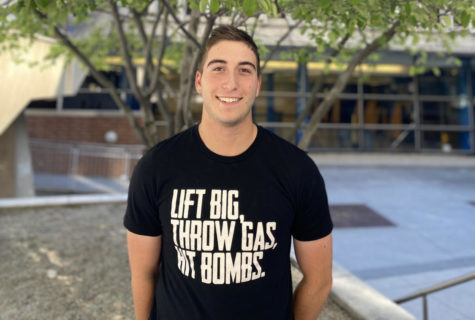 Dean Goldman '23, Lead Reporter/Humorist
Dean is a senior and second year journalist at JCP. After a year on the sports staff, Dean is the copy editor this year and has big plans with the broadcast...