Play review: Radium Girls
Jones drama club puts on impressive fall performance
For this year's fall production, Jones College Prep staged the play Radium Girls by D. W. Gregory. The play, set in 1920s Orange, NJ, depicts a number of girls who developed serious health complications while working for the U.S. Radium Corporation, where they were regularly exposed to radioactive paint. 
The story follows some of these girls as they pit themselves against a wealthy corporation, an unsympathetic legal system, and a corrupt medical establishment to raise the alarm about the danger of radium before their lives are lost to the poisoning. 
The play explores themes of corporate corruption, looking at how companies can control the flow of information in order to protect their economic interests. In particular, it demonstrates how the "truth" that is shown in the media can be shaped by private interests to, as the author puts it, "win in the court of public opinion." The Jones production of "Radium Girls" does not fail on this front, with even the real-life audience of the play often caught between the powerful performances of the lead protagonist and the lead antagonist.
One cast member, Steven Lim '24, contrasted the play with last Spring's production of "Anastasia." 
"During 'Anastasia,' we had so many cast members, all of which came from different grades," said Lim. "For 'Radium Girls', the cast was definitely smaller, mostly consisting of seniors." 
Despite the smaller cast size, the Jones drama club was able to put on a spectacular and moving performance. Their use of accurate period costumes, thoughtful accent choices, engaging yet simple set design, and thematically fitting music helped to transport the audience into the world of Orange, New Jersey during the 1920s.
This fall's production didn't happen magically, though. The effort came after almost a month of daily rehearsals and intensive practice. The cast worked tirelessly to perfect every scene, taking the story from the rough story outline of the original script to the vibrant, emotional performance last week. The makeup artists and costume designers can't be ignored either, with detailed styling helping to bring the audience into the world of "Radium Girls." And last but not least, the performance by the lead actors, Hannah Gill '23 and Ethan Coon '23, was absolutely incredible, often bringing the audience to applause with their moving monologues. 
Overall, the drama program's production of "Radium Girls" was a truly impressive project, representing the individual actors' skills and the ability of the cast and crew to work together to make something amazing. The specific choice of play was also important, with the heavy critique of corporate influence on media that is presented in the story being increasingly relevant now, particularly in light of recent Jones events.
Leave a Comment
About the Contributor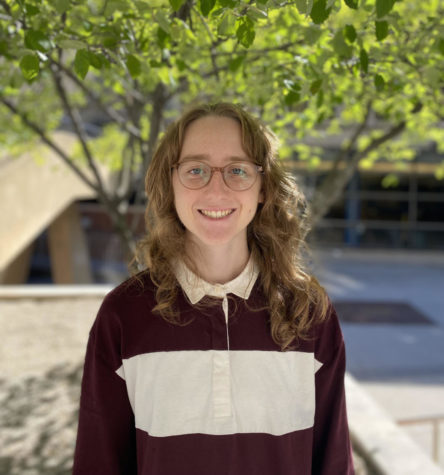 Conny LaFlamme '24, Lifestyles Staff
Conny is a Junior and a member of the Lifestyles Staff. She spends most of her free time playing Tetris, reading comics, and going on walks around the...