Drawing a new world
Art Spiegelman discusses the importance of art as a communication tool
Art Spiegelman, author of the graphic novel "Maus," spoke at the Harold Washington Library on Nov. 3 in conversation with his wife, "New Yorker" Art Editor Francoise Mouly. 
The event focused on his young life and how he became a comic writer, as well as how his personal experiences inspired him to write "Maus," a graphic novel that follows him interviewing his father about his experiences as a Holocaust survivor. The title derives from the depiction of the characters, wherein they are all mice.
"[Libraries] saved me. I have only one good eye, so baseball was impossible for me," said Spiegelman. "I had to escape before the teams were chosen at the end of the school day, and I would just flee to the library as fast as I could."
His love of reading would develop there, deep between the pages of Kafka. He would later use this love of storytelling to recount both his and his father's stories in the form of comics. 
"At some point, it just became obvious to me […] that [a comic strip] is where [this story] belongs," said Spiegelman. "There's nothing more personal than a comic strip."
Besides being a processing tool for him, Spiegelman speaks to the idea of art as an educational tool. He uses the banning of his novel in McMinn County, Tennessee, to highlight the concept.
"At first, I felt the way most people do," said Spiegelman, responding to a question on how he felt about his banned book. "I first got outraged – 'What, they're banning teaching the Holocaust?' – but it wasn't exactly that."
It was not the banning of the book that ultimately angered the author, but instead the reasons for banning it. The school board argued that nudity and violence were not age-appropriate.
"You chose the comic as your medium because you could control what was shown and what was not shown," said Mouly. "[The school board says that] simply having [the murder of children and hangings] in the book promotes that kind of violence."
Spiegelman explains why he chose to (or chose not to) include certain aspects of the violence, explaining that sometimes it boiled down to how his father had experienced it. 
"I didn't want to see how bloody I could make it," said Spiegelman. "But I had to show [the violence]. There was no shying away from transmitting my father's story the best that I could."
The evening, though ultimately celebratory of Speigelman's life and work, was also permeated with unease about the recent rise of antisemitism in the United States. Aden Zalesky '23, a Jones student who attended the event, asked how to navigate a world marked by a resurgence of hate.
"You've dealt with this a long time, and I'm only 17," said Zalesky. "What advice do you have to speak out and be an activist, but also educate people without maybe wanting to punch them?"
Spiegelman's answer was flavored with the same serious sarcasm that threaded the entire evening.
"My first wisecrack answer is just to learn karate," Spiegelman said in response. "I never thought it would get this bad, this fast again, even though it was never healed. But if we can survive all this, there are enough smart people to go around."
Mouly, however, had a more optimistic response, appealing to young people to speak out against the injustices they face.
"The world that you're growing up in is far more diverse and […] less monolithic than the ones that we grew up in," said Mouly. "It's why we're going through this horrible spasmodic set of responses. They are reactionary. But we are the action. You are the action."
Leave a Comment
About the Contributors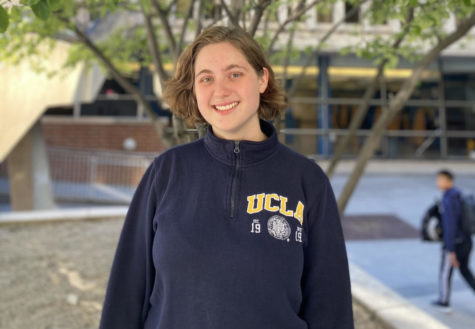 Karen Buecking '23, Lead Reporter
Karen is a senior and is Lead Reporter for the online section. She is in her second year on the Blueprint and is excited to provide local news and analysis...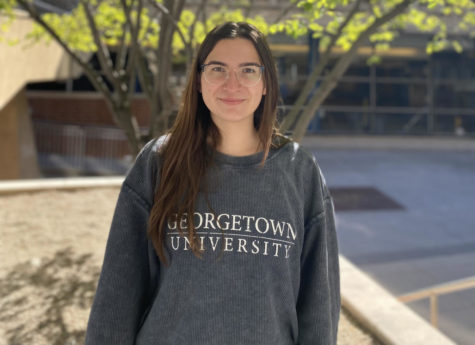 Saafya Alnaqib '23, Online Copy Editor
Saafya is a senior and is a member of the School Staff. This is her first year on the Blueprint, and she is excited to work with everyone and learn more...