SATIRE: SGA announces Electoral College plan
Representatives want to replace popular vote
Current Student Government Association (SGA) representatives at Jones revealed plans for an electoral college in this spring's election. 
Students feel elections at Jones tend to be too much of a popularity contest, with various groups at Jones feeling unrepresented.
"When I look at our current government, I feel that a large percentage of the student body has not been heard," said Syd Izen '24.
The eight SGA members per grade are voted on by their respective class and each position is won by whoever receives the most votes. The proposed solution involves a sectioning of the grades into smaller delegations.
"Much like the way that the U.S presidential election has each state carrying votes proportional to population, we are figuring out a way to translate that to the individual classes," sophomore representative Polly Tiks '25 said.
The initial proposal is to make individual sports, "states," and to have them carrying votes.
"Certain sports contain more players than others and should be treated as such," said Tiks. "The 24-person varsity baseball team would have more votes than the eight person tennis team."
Clubs would also adapt the state format, and, according to professionals, there could be some high stakes.
"Certain clubs would essentially become swing states," said AP Government teacher Alek O'Nommix. "Members of the Girls Who Code Club and Women in STEM historically vote for opposing parties, so there would be added attention on how Female Engineers of the Future vote in the coming election."
Other schools have attempted the change to an electoral college system, but they have not  gone well. The 2018 Lane Tech Freshman Election is still covered with controversy. 
"The plan seemed fine at the beginning," said O'Nommix. "But soon, the conspiracy came to light. It is still the greatest form of voter deception I have ever witnessed at the high school level, even more so than the Northside Junior Presidential Election of 2012," said O'Nommix. 
Lane elections had been tight, with six members having won their candidacy by a margin of five percent or less. In 2018, the SGA divided the freshman class into English I classrooms, with each being worth one vote. Whoever got the majority of the 33 classes won the election.
The senior government originally voted to have homerooms carry the votes, but Treasurer Igor Torkochev '18 was adamant to make the vote belong to English I.
"Igor was a member of the National English Honors Society at Lane, which meant he had a strong relationship with most of the department," said O'Nommix. "But why was Torkochev so passionate about the freshman election? Igor had a younger brother, Ivan, who was running for freshman president," said O'Nommix.
The elder brother spent an entire NEHS meeting going to every English I classroom propping up posters of his brother with famed rapper Lil Pump. When the votes were in, Ivan had won the presidential election with 28 of the electoral college votes.
"There was redistricting, propaganda, and corruption," said Tiks. "My brother was a freshman at Lane that year and voted for Ivan. He did not even know the guy, but had seen his picture every day when he walked into fourth period," said Tiks.
Both Torkochevs were expelled immediately. Lane had to redo the election and reinstated the popular vote. The scandal is being referenced by Jones' SGA while they come up with their final map.
"I like the idea of using extracurriculars," said Senior President Preston Dent. "But not every student is in a club or a sport. There is definitely a map that will work, but we just need to find it."
Leave a Comment
About the Contributor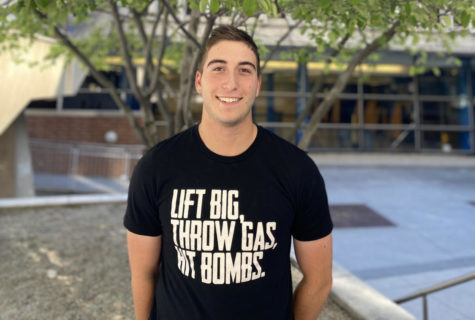 Dean Goldman '23, Lead Reporter/Humorist
Dean is a senior and second year journalist at JCP. After a year on the sports staff, Dean is the copy editor this year and has big plans with the broadcast...