Introducing Jessica Sanchez
Jones introduces new math teacher mid-school year
Jones recently welcomed the newest addition to the Jones Math Department, Jessica Sanchez, who replaced former math teacher John Wray.
Sanchez is joining Jones mid-school year, filling an empty position that left a number of Math I students without a permanent teacher. Sanchez is excited to begin her first year in CPS after five years of teaching. 
"I came from ITW Speer Academy, a charter school, so this is my first time in CPS," said Sanchez. "At the charter school, a lot of the policies are very different, and the administration was a little bit of a mess. I already feel a sense of calmness being around the teachers here."
For Sanchez, the most rewarding part of teaching is helping students reach a new understanding in their learning.
"I have always enjoyed the aspects of teaching something and watching somebody learn and pick that up,"  said Sanchez. "That 'aha' moment that they get, like 'Oh, I get it!' is probably the most rewarding moment that you get in teaching."
By coming to teach at Jones, Sanchez is hoping to explore a different style of learning that would allow students to be more active in class and direct their learning. 
"I'm still working a little bit on my teaching style, and that's part of the reason why I'm here at Jones," said Sanchez. "[At Jones], there is more of an approach of discovery learning and I really enjoy that aspect… I like to have kids mostly be the ones up at the board and I like to be the one talking the least."
Growing up with English as a second language, Sanchez was drawn to math from an early age as it allowed her to learn without a language barrier, inspiring her to become a math teacher. 
"Spanish is my first language, so coming here, I was in English as a Second Language class (ESL), and numbers just made more sense," said Sanchez. "Math is a language. Even an addition symbol is telling you to do a very particular thing without using any words. It just made so much sense to me with minimal words because I didn't know English at the time."
Outside of teaching, Sanchez has many diverse interests and hobbies, including her love for food, marathons, and salsa music.
 "I love cooking and baking. Those are some of my favorite things to do. I love weightlifting, and I just ran the Chicago Marathon too. That was a goal of mine since I was twelve," said Sanchez. "I also listen to a lot of salsa recently because my boyfriend is a piano player and plays in salsa groups."
In the future, Sanchez hopes to take on a more active role at Jones, with hopes to become involved in the creation of the math curriculum.
"Eventually I would like to take on another role with curriculum development, which just means that [I would be] the one writing the math problems," said Sanchez.
The Math I students who were left without a teacher have noticed an improvement in their learning after the addition of Sanchez to the department. 
"I like her teaching style. We always manage to fit a game in class that has to do with math and it's a lot of fun," said Elena Mendoza '26. "I think I am learning better and learning more."
Some students are appreciative of the approach Sanchez takes to create a more comfortable environment in the classroom.
"Learning with Ms. Sanchez has actually been going really well," said Joel Nacionales '26. "We do a lot of warm-ups because sometimes you're too tired to do math but she makes us feel a little more comfortable."
Sanchez sees a future at Jones and hopes to continue exploring new roles.
"I could see myself here for many years, whether that's teaching or taking on another role," said Sanchez.
Leave a Comment
About the Contributor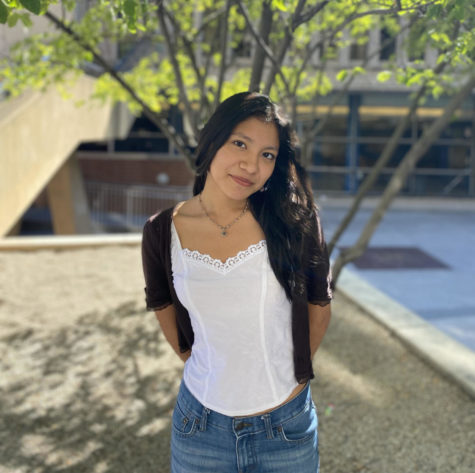 Leilani Freire '24, Lead Reporter
Leilani is a junior and on the school staff. She is always looking for film recommendations and enjoys listening to Sonic Youth, The Breeders, Hole, and...