Running to Butler
Track and cross country star Evelyn Hett commits to Butler University
Jones star runner Evelyn Hett committed to Butler University on Oct. 14 for track and cross country (XCTF). 
Hett's decorated career at Jones includes all-sectional honors and regional girls MVP. She recently helped the Jones XC team win first place at city championships, winning the girls' three-mile race. 
Hett felt drawn to Butler due to the strong sense of community within the student body.  
"All the girls there had a good balance of their athletic careers, academic careers, as well as their social lives too," Hett said. "There was a good balance, more so than any other school I was interested in." 
Hett also found the strong culture of athletics at Butler extremely enticing. 
"Many people who go there are athletes, so the professors are very accommodating, which was important to me."
Butler coach Keegan Culler's extensive efforts to recruit her also led to Hett selecting Butler. 
"The coach really expressed interest. They reached out to me before I reached out to them. The feeling of being watched [by] somewhere that you can contribute to the program is a big thing," said Hett.
Hett initially began the college recruiting process in October of 2021, establishing relationships with many schools before making her final decision. 
"I sent [coaches] post-race interview videos and videos of me racing along with videos of time trials and some statistics on my workouts," said Hett. "I was probably reaching out and talking to 25 different schools. I narrowed it down to ten and chose pretty quickly."
Hett further narrowed down that list before ultimately deciding on Butler. 
"I visited three different schools. When I step on campus, I get this gut feeling that I could really see myself there," said Hett. "[For Butler], I really liked the school community [and] that it was a smaller school with a lot of spirit."
In addition to furthering her studies at Butler in Biology (on a pre-med track), Hett is excited to experience a higher level of competition.
"I'm really excited to be at these bigger level meets," said Hett. "I think traveling will be super fun, and it's just a really good team atmosphere." 
Having followed her running career for the past four years, many Jones students eagerly anticipated Hett's commitment decision. 
"It's been a big speculation of hearing where Evelyn was going to commit," said Brigid Hattel '23, a close friend of Hett. "We're all very proud of Evelyn. She has gone through a lot and put a lot of work into her running. We're all very excited to see where she goes in the future and how college running will go for her."
Hett credits her experience in the Jones XCTF program with preparing her for Division-1 competition. 
"Running at Jones has taught me a lot. I've definitely grown as a person mentally and physically," said Hett. "Last season, there were a lot of times when I didn't think I was going to continue, but I honestly met some of the most influential coaches and people at Jones. One coach, in particular, has really changed my life and how I look at running and helped me fall in love with the sport."
That coach is Andrew Adelmann, the former Jones Boys XCTF coach, who now teaches and coaches in Downers Grove. He heavily influenced Hett's running career. 
"She's a special athlete. You can watch her race or look at her times and see that," said Adelmann. "Countless people have that same special talent but don't necessarily have the character, toughness, and work ethic to match. [She] has all four of those things, and that makes who she is."
To Jones runners, Hett encourages them to have a positive mindset and prioritize fun.  
"I think when you're able to offload, have fun with it, and take some of the extreme pressure off because it's only high school," said Hett. "I think it really sets you up in a positive mindset. You can see how social the sport can be and the relationships that you build from it."
Leave a Comment
About the Contributor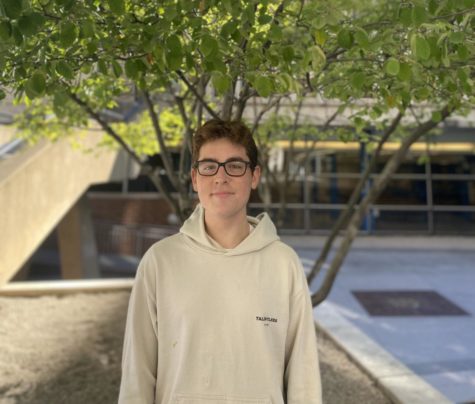 Gabi Josefson '23, Editor-in-Chief
Gabi is a senior who is exuberant to serve as the Blueprint's Co-Editor-in-Chief. It's his 3rd year on the Blueprint and he is thrilled to be part of this...