Kickin' It Up a Notch
Jones senior goes D1 for soccer
Soccer is an important part of Ameer Abdullah's '23 life, and it's not stopping anytime soon. Earlier this month, he committed to the University of Pittsburgh to further his athletic and academic career. 
"I've been playing soccer since I was about two or three years old," said Abdullah. "I was a very hyper kid and soccer was a good way to get that energy out."
That energy became skill. Abdullah, who played multiple sports growing up, was becoming a star player on the pitch.
"I stuck with soccer because I was the best at it. I tried all the sports, like basketball, but I just wasn't very good at it," said Abdullah.
During sophomore year, collegiate soccer became a real possibility for Abdullah.
"The recruiting process started about two years ago," said Abdullah. "It's been a long process, but it's been exciting."
Abdullah did not rush through it, however. He weighed all of his options and made sure that his choice would be a complete fit.
"I took an extended period of time in my decision because I wanted to find a program where I would fit in and would be somewhere that really wants me," said Abdullah.
Pittsburgh first came into the picture during Abdullah's junior year. The mutual interest between the two arose.
"They first reached out to me about seven or eight months ago, after they saw me in a showcase," said Abdullah. "We both took our time. They looked at other center backs and I looked at other schools. It just happened to be that it was a perfect fit for both of us." 
Abdullah knows the path to success is not easy, and maximum effort had to be put in to get to his current position.
"It's cliche to say, but a lot of hard work, a lot of hours," said Abdullah. "Ever since I was a kid, I didn't do a whole lot of stuff with my friends. My life was really soccer focused, and that's honestly been the difference maker," said Abdullah
College is not the endgame for Abdullah. He wants to be a professional player and believes that Pittsburgh can give him the training he needs.
"I'm definitely looking to go to the next level. That's always been my goal since I was a young kid and I think that that goal is very obtainable at a program like this in the ACC [Atlantic Coast Conference]," said Abdullah.
Abdullah loves soccer and hopes that other kids can reach their dreams, but he does caution that the level of commitment needed is high.
"You have to be obsessed with the game. And if you're not, then you're not going to go very far," said Abdullah.
Leave a Comment
About the Contributor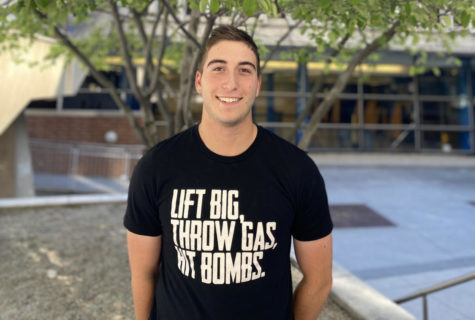 Dean Goldman '23, Lead Reporter/Humorist
Dean is a senior and second year journalist at JCP. After a year on the sports staff, Dean is the copy editor this year and has big plans with the broadcast...