SATIRE: You mirrin' brah? Not right now
Removal of weight room mirrors lowers lifters' esteem
After broken glass and numerous injuries, the mirrors in the south weight room have been removed, crushing the spirits of Jones' weightlifters. Students and teachers alike have been looking for new ways to find the drive to lift.
"I truly have lost all motivation to pump since the mirrors are gone," said Sammy Swol '24. "What is the point of doing curls if you can not admire your gains afterward?" 
Many students share the same feelings of loss as Swol. Belle Kettle '23 is a member of the basketball team, which lifts in the south weight room, and she has observed a drop in results this year in offseason workouts. She connects the lack of gains to the lack of mirrors.
"Last year, the entire team would lift, and afterwards, we would take some mirror selfies to highlight our hard work," said Kettle. "But now I just watch the clock and hope the workout will end as soon as possible."
Mirror selfies have long been popular in the south weight room due to its lighting. The natural lighting coming in from the east paired with the overhead fluorescents shows optimal definition while also emphasizing muscle mass.
"The mind is enamored by the body. Seeing yourself yoked up releases a high amount of endorphins into the body," said psychology teacher Thomas Gaenz. 
Gaenz has spent the last two weeks teaching an afterschool class with physiology teacher Ben Chalot on exercise sciences. The class has been popular among students who used to work out in the South Building.
"I find exercise sciences really interesting now. My workouts used to revolve around me doing a lift and then immediately checking myself out," said Swol. "But now I am understanding how to make more effective workouts. I am putting a higher emphasis on hypertrophy and incorporating eccentric and isometric lifts into my program," said Swol.
The class also deals with nutrition, sleep practices and supplementation. There are even rumors of the class being a full year course next year.
"I would love to expand the class," said Chalot. "Me and Thomas [Gaenz] have explored field trips to LA Fitness, and bringing in guest teachers like professional bodybuilders and powerlifters. We are also in early talks with the Liver King," said Chalot.
Admin currently has no plans to restore the mirrors in the South Building, which has led to an increase in north weight room usage. Historically, the north weight room has been known as a playground for underclassmen, but due to there being mirrors in the room, there has been an influx of serious lifting juniors and seniors. The overcrowding has led to a turf war between the classes.
"Me and my buddies would go to the north weight room during every AcLab and would have a deadlift competition," said Preston 'PR' Rich '26. "Now I get to the room, and there are a half dozen seniors front squatting and taking up all the plates. By the time AcLab ends, I have barely got my second set in," said Rich.
Rich does believe there is common ground between the parties that could curb the issues. 
"If a senior could help teach me and my friends the ropes, we could definitely find some common ground," said Rich. "I would love to get some help on my form. I don't think it's a good thing that I have had three bulging discs this quarter."
Leave a Comment
About the Contributor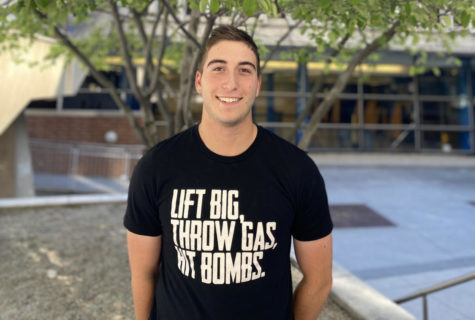 Dean goldman '23, Lead Reporter/Humorist
Dean is a senior and second year journalist at JCP. After a year on the sports staff, Dean is the copy editor this year and has big plans with the broadcast...