Enthusiastic eagles
Jones students mostly enjoyed this year's first spirit week
Jones students experienced mixed reactions to an overall successful Homecoming Spirit Week, filled with different themes and daily events. 
With a special Homecoming week schedule, students took part in a variety of activities from a musical chairs competition in the gym to a staff versus student basketball game. Each day of the week had a different theme, including Superhero Day and Adam Sandler Day. 
Some students think that Superhero Day, the first themed day of the week, could have been better. 
"Superhero Day was boring, nobody dressed up, and I did not see many superheroes," said Max Korte '23.
Most students did not see much participation from their peers and believed other students did not like the theme for Monday. 
"People only participated in the days that they liked, like nobody did Superhero Day," said Abbie O'Neill '24.
The following day, however, many students at Jones enjoyed dressing up as pop culture icon Adam Sandler, with his baggy style.
"My favorite day was definitely Adam Sandler Day," said O'Neill. "I like wearing comfy clothes and it was also kind of cool because everybody was dressed similarly, even though we all have different fashion styles." 
The day was so popular that some students proposed to continue with similar themes in the future. 
"I would do something along the lines of Adam Sandler Day again, like choose an iconic person with a distinct style," said O'Neill.
The student versus staff basketball game on Tuesday amused and entertained students as they cheered for their class to win. 
"It was funny because I have never seen some of the teachers who played in an athletic context before, so it kind of made my day," said Korte. 
Students also partook in a dodgeball match while having a humorous Red Flag/White Lie Day. 
Other participants during Spirit Week expressed how they made a fun connection with peers as they celebrated school pride together. 
 "I really liked that our class color was pink. It's just a great color and it's also nice to notice a lot of people that you didn't know were juniors before," said Chiara McGowan '24.  
Jones held a successful pep rally on Thursday, which was also Class Color Day. Students say Thursday's activities helped end a fun-filled week. 
"It was really cool to see my friends performing, and you could totally see the pink and purple class colors for juniors and seniors," said O'Neill. 
Part of the pep rally was also dedicated to welcoming back our missing mascot, Billy the Eagle. 
"As a member of the Jones Blue Elegance Majorette Team, I am happy to have Billy the Eagle back for school spirit. I think everyone was happily surprised with Billy," said Karri Stewart '24.
 Many students also recognized that the students and the administration who planned spirit week are heading in the right direction to make students proud of Jones. 
"This pep rally felt so much more like a pep rally than those we had before," said Korte.
Leave a Comment
About the Contributor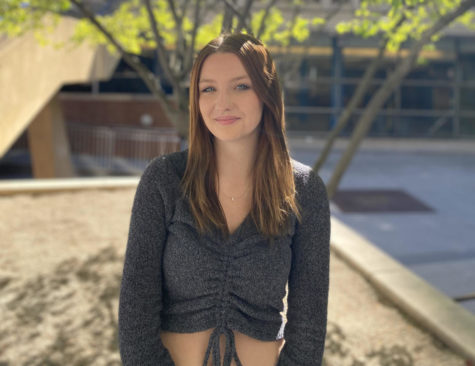 ALMA MARSHALL '24, Producer
Alma is a junior and is taking on a new role as producer of the Blueprint. As it is her second year on the Blueprint she is excited to be in more of a...