"Dreaming of you"
Selena tribute concert honors legendary queen of Tejano music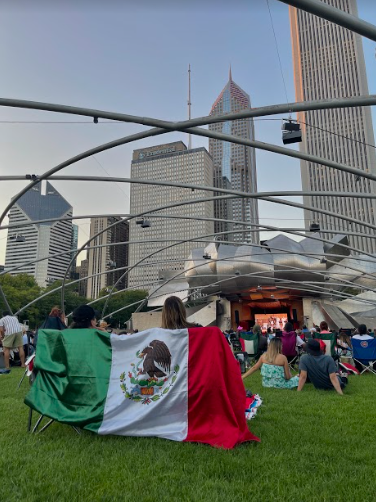 On September 9, thousands of people all across Chicago came together to enjoy a tribute concert for music icon Selena Quintanilla, maxing out the Jay Pritzker Pavilion. 
Selena was a Mexican-American Tejano (Texan of Hispanic descent) singer who is a staple figure in every Hispanic household. Songs like Como la Flor (1992), Bidi Bidi Bom Bom (1994), and Baila Esta Cumbia (1990) have been passed down through generations, never losing their touch. 
Selena's popularity is an accumulation of her catchy cumbia songs, her essence, and what she represented: joy and orgullo, or pride, within the Hispanic-American community. 
The tribute concert was hosted by the National Museum of Mexican Art, based in Pilsen, and showcased many talented artists, setting off the start of Hispanic Heritage Month. 
Many young Latine people, like Yamali Rodas Figueroa '23, grew up listening to Selena, admiring her music and her persona.
"I remember watching Selena on a TV show and in the [1999 biopic] and just thinking she was cool," said Figueroa, who attended the concert. "She mixed her American and Mexican identity together, being proud of both, which is something that many Mexican-Americans can feel a connection to."
 What was unique about Selena was her recognition of her two identities, something many Hispanic Americans feel hesitant to do. 
"She didn't speak fluent Spanish, but she still included it in her music," said Monse Rodriguez '24, who attended the concert with Figueroa. "This included a lot of Latinos who aren't fluent in Spanish, making them feel more connected to their Mexican identity."
Selena was nominated for 86 awards in her life, two of which were Grammys. It is safe to say that she was an inspiration to people everywhere, especially Latine people. 
"Selena paved our [Latine] existence into history, and there are probably a lot of figures that came before but she became really mainstream," said Esther Valentin '23
Valentin, who also attended the concert with fellow friends Figuero and Rodriguez, views Selena as an innovator and pioneer in the music industry.
"She was Rihanna before Rihanna was Rihanna. She could have been a millionaire; she had a clothing line and a makeup line," said Valentin. "The entrepreneurial spirit she had is what these artists have now, she was futuristic."
Selena's music continues to be celebrated, and with Chicago being home to a large population of Latine people, the tribute concert was an instant success. Though Selena is no longer alive today, her spirit was embodied in the featured singers, which is what brought the concert to life. The concert featured a variety of Hispanic talents, including Mariachi Perla de Mexico with Tessa Lopez, Sarah La Morena, a tribute from Karla Perez's "Selena the Show", drag performances by Ivanna Rubio, Venus Carangi, Angelicia Diamond, Illana's Illusion, and Luna La Catrina, as well as headliner Jennifer Peña.
Every performance was spectacular, showcasing the diversity of Hispanic heritage, but Jennifer Peña's tribute to Selena was especially touching. Peña, a Tejano singer herself, displayed a video of her as a kid singing a Selena cover for a competition. Peña continued on to say that when news about Selena's death was made public, she swore she would never sing again. The audience had already gone through waves of emotions, ranging from exhaustion to excitement. But Peña's story shows the impact Selena had on a little girl's singing career, which many other Latine artists can relate to. This is why it's extremely important for young Latine people to have an artistic inspiration as magnetic as Selena because of the lack of Hispanic and POC representation in the music industry.
Selena pushed representation for Hispanic Americans to the forefront. She made people feel seen and understood, not shameful for not fitting into standards of being exclusive to one background, because growing up in this country with Latin roots creates distinctive experiences. The tribute concert brought people from Hispanic backgrounds as well as other backgrounds together to celebrate the impact this Tejano singer had, and continues to have, on a multi-generational level.
Leave a Comment