Club changes
New rules for student-run clubs
After a boom in student-run clubs and activities, numerous student leaders attended this year's mandatory Fall Club Summit to learn more about new rules and resources for clubs and club leaders. 
The event provided various club leaders with information that had previously been unknown to them, and re-introduced pre-COVID-19 mandates surrounding student-run clubs. 
"The club summit was held on September 7," said Director of Development Troy Hilbrands. "While the students change and the leadership changes, we can help facilitate transitioning from year to year. So we developed some different things to help students get better organized, and it was a huge success." 
Those who attended the club summit learned a lot of useful information. 
"It was very important. There was some stuff that I had no idea about, even though I've been in a leadership position for so long," said Black Student Union President Jaheim Johnson '23. 
At the club summit, administrators unveiled new resources for club leaders to help streamline organization. 
"There's different tools that we're still building — but close to finishing– that will be released in the Club Center," said Hilbrands. "It's a Google Site that students will be able to access and then we'll probably be adding a Google Classroom for all the presidents to have access to."
The site, which will essentially be a landing page for all club related information, is already garnering student approval. 
"I think the whole website thing is very innovative," said Johnson. "I think that is an amazing idea."
Additionally, administrators revealed a new change to meeting times for clubs. 
"Clubs should not be meeting during AcLab, they should be meeting after school with their sponsor," said Hilbrands. "[The change] really comes from a refocus on using AcLab for academics and not for clubs." 
Outside of student academics, club meetings during the day are also an issue for teacher sponsors. 
"Typically the teachers will work until 3:15 and then they're done," said Hilbrands. "Then they can pick up additional things where they often would get a stipend for being a part of the club (depending on the club), so [getting paid for club meetings during the school day] would be considered 'double dipping.'" 
While there are of course some exceptions to this rule for some clubs —such as Best Buddies, whose diverse learners are unable to meet after school— the new rule will affect many clubs. 
"As far as other clubs, I feel like we might see them dissolve," said Johnson. "I know some people aren't really either allowed or they don't have the allotted time to stay after school to host the club."
Club leaders are worried about hosting meetings late into the evening when many members may take public transportation home. 
"We live in Chicago, the sun sets at five o'clock/six o'clock for roughly five months out of the year. You can't expect children to stay after school and then get on CTA when it's dark outside to get home," said Sanai Wright '23, co-president of a new club. 
After starting their club this year, Wright and Ethan Coon '23 found information given during the club summit helpful. Their club 'Give a Little' was created to assemble care packages for homeless people during AcLab. 
"[The new information] will make us more organized and we'll know where to start," said Wright. 
But after learning that their club could no longer meet during AcLabs, Wright and Coon had to navigate what changes to make. 
"We're going to try to meet after school but it puts us both at a disadvantage in the spring because we play sports that meet directly after school," said Wright. 
Coon and Wright are also trying to be cognizant of others' availability. 
"Many people are very busy and AcLab is an easy time to meet. Meeting before school or after school makes it difficult," said Coon. 
With a new club, Coon and Wright also worry about competing with already established clubs for after-school time. 
"We are not meeting on Wednesdays at all. Because Black Student Union generally hosts meetings on Wednesdays and] no one will show up," said Wright. "And then there's a lot of high schoolers who don't want to stay after school, they barely want to be here for eight hours so it'll be even harder to get attendance." 
The co-presidents are also worried about competing with other sports. 
"Not only other clubs, but sports. Many people in Jones are enlisted in sports activities which have practice after school, sometimes every single day," said Coon. "[Student athletes might hear about our club and say] 'Oh, that sounds interesting, but I have practice.' Now that we can't meet during AcLab, fewer people are going to be able to join clubs, and less people are going to be interested in them. " 
While student leaders seem to have benefitted from a lot of the information that was disseminated during the club summit, many are still unhappy with the new ban on club meetings during AcLab.
"My thoughts about the club summit are: 'This is not a good idea, and it's hurting teachers more than it's hurting students. And club participation is bound to be even more decreased,'" said Wright.
Leave a Comment
About the Contributor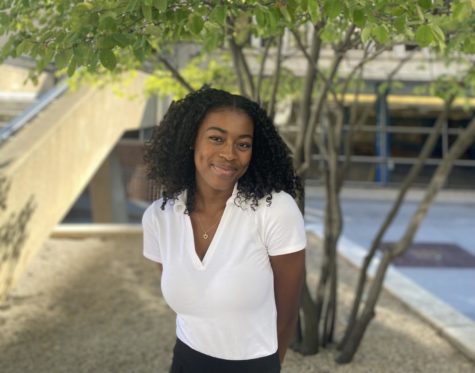 Ariel McGee '23, Deputy Editor-in-Chief
Ariel is a senior and Deputy Editor-in-Chief of the Blueprint! This is her second year on the Blueprint and she's extremely excited to continue honing...