Back and better than ever
Majorettes return after COVID break
The Blue Elegance Majorettes, an intramural dance team at Jones, has picked up again since COVID-19 disbanded the team in 2020. 
Majorettes originated in historically black colleges (HBCUs) in the 1960s. The dance troupe's unique style of movement incorporates elements from multiple dance influences and marching styles. 
"[Majorettes dance] is a combination of ballet, jazz, and hip hop with more of an African style," said Coach Shon Henry. "So there's a lot of African moves in there and it's just a big ball of everything."
Outside of being just a dance style, Majorettes is also a sport that evokes personal growth for some.
"I think [Majorettes is] something to help you break out of your shell. It's a confidence booster," said returning Majorette Daniella Arroyo '23.
According to Henry, the chaos of the COVID-19 pandemic made it very difficult for him to coach  Majorettes, which drove the team into a hiatus. 
"With the COVID year and afterwards, for me personally, work just got a little bit more hectic so I wasn't able to find myself as committed as I wanted to be," said Henry. "So as time started to go on, people were always like 'Oh, when is [Majorettes] coming back?' And I'm like 'You know what? It's a perfect time to,' especially because I'm working from home and it's a lot easier with my schedule."
Upon learning of  Majorettes' return, some students felt happy to dance again. For others, the return restored an opportunity to be a part of something unique and bigger than themselves.
"I was so excited. I wasn't really interested in any other clubs. [Majorettes] is the one thing that really caught my attention, that I enjoyed, [that I] felt included in and a part of," said returning Majorette Sofia Arroyo '23. "Majorettes was something that pushed me to dance, to try to improve, to get better, so when I heard it starting up again I'm like 'Okay, this is that time, this is that moment.' I was just happy to have that chance again."
Although Majorettes brings a lot of growth to its dancers, the change doesn't happen overnight. The dancers work hard year-round to execute fun, new, and exciting performances. 
"We usually start from the beginning of the school year until the end of the year, so they really don't get an offseason," said Henry. "Our most hectic time is basketball season because let's say, there's about 20 basketball games and we're probably performing at 15 of those. So, probably, every week these girls are learning a completely new routine." 
This challenge doesn't scare dancers like S. Arroyo. In fact, some team members  look forward to facing these adversities. 
"[I'm looking forward to] getting better as a dancer and then also just getting to perform and go all out and just go all out. Hype people up in the crowds. We want people to know what majorettes is, what we do," said S. Arroyo. "Since we took a break for two years, a lot of people didn't even know we had this team. We want to show people what we do and who we are." 
One of the main reasons the team is so confident in their ability to charm the Jones community is their supportive atmosphere as a dance troupe.
"Our strength is that we support each other a lot. We're always pitching in, when we're practicing and we're calling each other out on stuff we need to fix," said S. Arroyo. 
Some new members are already learning things about themselves and are dancing through this supportive approach. 
"Throughout the tryouts, I was having a really hard time at the moment. Just going to practice itself made me forget about it and made me feel happy. I learned dance can be escaping and freeing," said new Majorette Teya Bass. 
According to Henry, this technique is helpful for dancers and coaches alike, as it creates a connection that propels the team to new levels of performance. 
"I think that [team chemistry] is a super important part of making the team because that can be your downfall. If you have that one dancer on the team that can slowly affect the entire team no matter if it's a team of two or a team of fifty-two," Henry said. "I think their genuine willingness to help each other and just want to see each other succeed and I think that's really helping them get as far as they have so far and so quickly." 
At the end of the day, Majorettes is meant to be enjoyed by its audience, the student body. For Jones students, S. Arroyo says that is exactly what'll happen.
"I already know some people are hype for majorettes and are hype for its comeback. We wanna give the people what they want," said S. Arroyo.
Leave a Comment
About the Contributor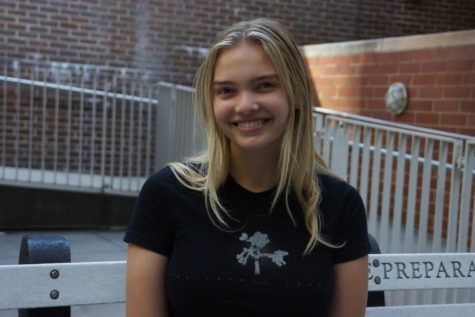 Norah Hendrickson '23, Editor-in-Chief
This is Norah's third year on the Blueprint and has been enjoying her new role as Co-editor in chief! She loves leading the Broacast/Podcast Section...