Womb mates to roommates?
Boston twins going to same college
Twins Devin and Jordan Boston '22  have been with each other for their entire lives. Now that they are graduating high school, that plan still isn't changing.
Even before they decided to go to Loyola Marymount University (LMU) in Los Angeles this coming fall, they decided that they wanted to do their college searches together.
"Initially, my brother and I decided to attend school together when we made our college visit. However, [after] a brief visit to Florida International University (FIU), I wanted to spend the next four years there," said J. Boston. "LMU had caught my brother's attention. When heading back to Chicago, I chose LMU because I thought it would benefit me long-term."
D. Boston believed that LMU was going to be the best option for both of them, even while J. Boston was intrigued by FIU. He ended up being right. 
"Seeing the benefits and opportunities that we had in Los Angeles that not many people would be able to have in life helped [Jordan] quickly change his decision," said D. Boston. "[We] also have a lot of family in Los Angeles, which also pushed the college choice.
While both brothers starred on the varsity boys basketball team, neither of them will be playing in college, as D. Boston is majoring in animation and J. Boston is majoring in business marketing. 
"I made this decision based off [of] the fact that I wanted to start a completely new chapter in my life," D. Boston said. "I love basketball and always will. The connections and coaches have helped me become a better version of myself."
Regardless of leaving the basketball team at Jones, their impact as teammates lives on and will continue to have a positive influence on the program.
"The twins are great leaders, separately and together," said teammate Ethan Samuels '24. "Personally, they made a huge impact on me, they're two great guards that I can look up to and compete against to better them [as well as] myself."
One benefit of their college choice is the fact that some relatives will be closer
to the twins than they currently are.
"[Our] sister and cousins are only a couple [of] miles away from campus, which is a major plus [going] so far from home," J. Boston said. "In addition, I've even convinced some of my cousins to attend LMU with us." 
Both of the twins have expressed their excitement for being able to branch out for college, but also are sentimental about graduating in June.
"I had a really fun time this year," D. Boston said. "I'm [definitely] a little bit sad, but at the same time, I'm really happy because I got to spend some great time with my boys and teammates. That's what I loved the most."
Jordan also commented on having to leave Chicago and Jones.
"I had fun while it lasted," said J. Boston. "But, I'm ready for the next chapter of my life and excited to see what it brings me."
Samuels said the twins' effects as leaders weren't just on the court, but in the classroom and world as well.
"I think their ability to connect with people and manage their time is going to benefit them in college, [especially] from an academic standpoint, as well as just having fun," said Samuels. "They stay 10 toes down and stay solid. The twins are the coolest, most interesting people I've ever met."
Leave a Comment
About the Contributor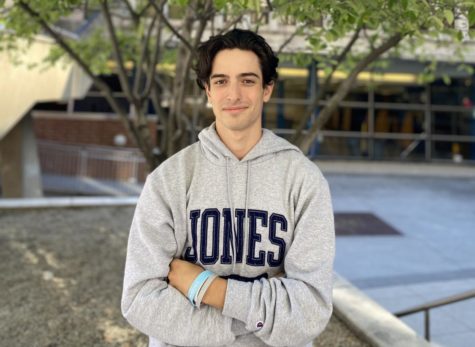 Jason Bernstein '23, Sports Editor
Jason is a senior and is the Sports Editor for The Blueprint this year. This is his second year doing journalism, and he is ready to keep the school updated...