Determined donors
Students give blood in person for the first time since onset of the pandemic
The Jones National Honor Society (NHS) blood drive was hosted in person on Wednesday, May 18 for the first time since the pandemic began. 
However, during the pandemic, donors had to visit a Vitalant center independently during a two week period. 
According to Daniel Andrade '22, current NHS blood drive 
coordinator, more students donate blood when the event is hosted by Jones. 
"There is a lower turnout in the virtual drives because you have to go out of your way to go to a blood drive center, and schedule an appointment. And then most of the time it takes more than the two allotted hours just because of the drive there and actually donating blood and a drive back," said Andrade. "It just takes a lot of time and commitment as opposed to having it near school where all you need to do is come."
However, it is more difficult to set up the blood drive when faced with the challenges of location and communication. 
"The last time all I had to do was advertising," said Andrade. "Now, I have to be in constant communication with our representative and answer all the questions about where to park and how to let [Vitalant workers] in and everything. I can't do it all in one sitting anymore."
Despite the difficulties of organizing, blood drives are hugely important to the American healthcare system, which is why it is beneficial to have many student volunteers.
"Around 4.5 million Americans will need a blood transfusion every single year, so it's important to donate blood if you're eligible, especially in times like the pandemic. It's harder to get a lot of blood and these drives become more important since blood is less accessible," said Alexandra Kerr '23, who will coordinate the blood drive next year.
Eligibility comes from specific parameters set by the government. 
"You have to be above 16. But your eligibility also comes from your height and your weight," said Kerr. "So there are some steep requirements to be able to donate blood which makes donating that much more important if you are eligible."
Francis Feeley, a sponsor of Jones' NHS, shares a similar sentiment to Kerr on why donating blood is important. 
"A lot of people rely on blood from donors to continue to survive and be well," said Feeley. 
This is why NHS board members find it imperative that as many eligible students as possible attend.
"It's probably one of the NHS's main events because it is open to the whole community. You don't have to be in the NHS to be a part of it," said Andrade. 
Leave a Comment
About the Writers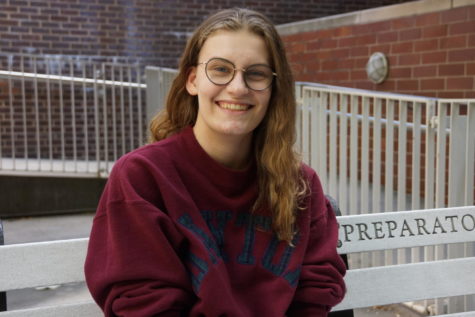 Carrigan Garrity '22, Managing Editor and Human Resources Co-Manager
Carrigan is the managing editor and co-human resources rep for the Jones Blueprint. She is involved in the Jones Swim team, as well as many different clubs...